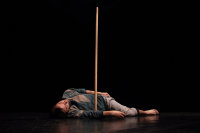 Pitch'd Circus Arts Festival are delighted to present

Stick Man by Darragh McLoughlin

This is an encounter between Man, Stick and TV. Man and Stick engage in various improbable feats of balance which transform the body into a variety of different images. It's fairly easy to interpret as the TV tells you what to see. Until it starts to tell you what to do. This work is a circus piece on the surface and a tragedy at its core.
Date: Friday 27th September
Venue: Circus Factory Cork, Centre Park Road, (behind) Centre Park House
Doors: .7.30pm / Show 8pm
Entry: €12.00
Suitable for ages: 14+ Must be accompanied by a responsible adult (18+)
Accessibility: Circus Factory has wheelchair access to the building however our washroom facilities are not currently built to wheelchair accessible standards.

For any further information or questions about this event please contact bookingcircusfactory@gmail.com
Pitch'd Circus Arts Festival 2019 - Presented by Circus Factory Cork
20 - 29 September - Showcasing new and exciting Circus and Street Acts from Ireland and abroad.
Visit www.pitchdfestival.ie for full festival programme

Kindly supported by Arts Council Ireland
About Darragh
Born in 1987 in Ireland as youngest of three siblings and son of two professional chefs. In the early stages of his life he had little exposure or interest in the arts until the age of 15 where he began juggling and dancing. In 2006 as he finished school, Darragh packed his bags for Berlin to attend a full time programme at the Jonglier Katakomben School of Juggling.
In 2008 Darragh attended the Academy for Circus and Performance Art. During this time, he developed his own object manipulation practice, and did extensive dance, acrobatic and performance training. Darragh completed his education with a Bachelor Degree in Circus Arts in 2012.
Late 2012 Darragh started creating "Fragments of a Mind" which premiered in October 2015.
In 2013 Darragh created "The Whistle". Premier 2014.
Darragh teaches at different professional institutions around Europe: FLIC [IT], ACAPA [NL], Die Etage [DE], Circus Factory (IRL).
Darragh is currently performing his 3rd piece: "STICKMAN".
Image credit: Andrea Salustri