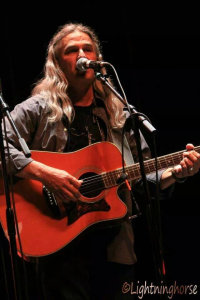 Society Hall is excited to welcome the west Texas music of Junior Vasquez and his wife Mickie!
Calistro "Junior" Vasquez is a singer and songwriter, born in Lubbock and raised in West Texas. He has been playing professionally for over 45 years. Junior began playing guitar at the age of ten and fronted his first band at age 11. From the early 70's to the early 80's, Junior fronted several bands, including Peyote, Texas Rain, Junior's Farm, and Rhema, and traveled throughout Texas, New Mexico and Oklahoma. They opened for several national acts including David Alan Coe, Styx, Batdorf and Rodney and many more. Junior will be performing along with his wife Mickie.
"Music is the universal language- it knows no boundaries. It reaches down to the soul and makes a person laugh, cry, reminisce, dance…. My hope is that my music will do just that." -  Calistro "Junior" Vasquez.
Born and raised in Lubbock, Tx. Junior has been an integral part of the music scene in Lubbock and the surrounding area since 1973. His music is acoustic guitar driven folk/Americana influenced by the likes of America, Batdorf and Rodney, James Taylor, Dan Fogelberg, The Beatles etc… He and his wife Mickie have earned the respect of many fellow successful musicians who've encouraged them to take their music to the music lovers throughout! Here's some of what their musical friends and peers have to say - 
"I've known Junior and Mickie Vasquez for over 50 years. Their songwriting and vocal goodness is second to none. Their live shows are stellar and compelling. And, besides all the talent, they are good Human Beings. I'm glad they are finally taking their music to the World"
Lloyd Maines- Musician and Producer 

My friends and heroes Junior & Mickie Vasquez are consummate musicians. Brilliant singers and instrumentalists — Junior on guitar and Mickie on keys — the two bring years of experience to their gigs. Having a wide and varied repertoire, to include finely-crafted original works, they come prepared for any occasion. And "prepared" means in every way: practiced, rehearsed, technically-sound, musically knowledgeable, reliable, dependable. But of even greater importance, Junior and Mickie are consummate human beings. They bring a bright and genuine presence to their music, a cheery soulfulness which is the most important gift that music — and its practitioners — can bestow. They're the real deal.
Andy Wilkinson Writer/performer/teacher.

"Junior and Mickie Vasquez is a husband and wife team I have followed for decades and proudly proclaim myself as a fan from the beginning. The perfect duet harmony, level of musicianship, and original compositions combined with selective choice of cover material guarantees to win you over as a new fan."
Jay Boy Adams- Singer/Songwriter- Producer
Come join us and celebrate the musical gifts of Junior and Mickie Vasquez!