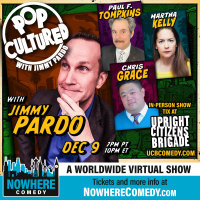 This event is at 7:00PM PT/10:00PM ET

It's a comedy game show where the comedy comes first and the game show second. A showcase for your favorite comedians to compete in some of the dumbest games you've ever seen: Pregnant or Tall?, What's Henry Winkler Holding?, and Is It a Marvel Character or a Sex Toy?, are just a few. If you love @midnight, Match Game and Whose Line, you'll love Pop Cultured with Jimmy Pardo!
Featuring Jimmy Pardo, Paul F. Tompkins, Chris Grace and Martha Kelly

ABOUT NOWHERE:
When COVID-19 hit, every comedian lost their ability to tour. Nowhere Comedy is a way around that - a full live comedy show experience from the comfort of your home (assuming your home is comfortable). Watch your favorite touring acts while they can't tour. And since there's no travel costs, tickets are more affordable to fans!
RULES AND PROCEDURES:
This show is limited, so don't wait to purchase your ticket.
Your ticket gets you access to the show on Zoom. Please make sure to download the Zoom app on your phone or computer ahead of time. We encourage the audience to keep their mics on so that everyone can hear the laughter. If your mic is on, please make sure you are in a quiet environment. If there is hum or background noise, try wearing headphones. You are welcome to have your video on or off. Please be respectful: if you interrupt the performance or do anything inappropriate on video you will be locked out of the show.
Upon purchase, you will be emailed a Zoom link - DO NOT SHARE IT. Only one person can use each link, and if more than one person tries to use it, both people will be locked out of the show.
DISCLAIMER:
Nowhere Comedy is providing a service via the use of Zoom's platform, a platform we do not own or control. By purchasing a ticket you agree that any problems or issues caused by using zoom's technology are not the responsibility of Nowhere Comedy, but if necessary can be taken up by you directly with Zoom itself.
By purchasing a ticket you are acknowledging you are aware audio and video of the show will be recorded, and you grant the comedians and Nowhere Comedy the irrevocable permission to utilize the footage and your likeness as contained therein, in any way, throughout the universe in perpetuity, so long as the context is not changed to alter the meaning of the original interaction, or to imply an endorsement of any kind. You are welcome to keep your camera off if you prefer not to be seen. That said, most shows will not utilize the recording for anything, as the shows are generally only seen live.