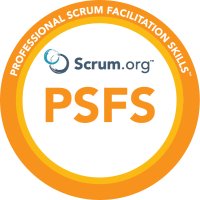 Professional Scrum Facilitation Skills (PSFS) is an interactive one-day course designed to help teams and individuals develop proficiency in facilitation skills, so that they can help teams better solve problems, build consensus, and foster transparency. Great Scrum Teams are self-managing, cross-functional and have the ability and skills necessary to drive to successful outcomes. But team interactions don't always go as expected and cause conflict or roadblocks. Effective facilitation can help teams move forward toward their desired outcomes. The course also includes a free attempt at the globally recognized Professional Scrum Facilitation Skills certification exam (PSFS).

Participants will learn how to become better facilitators to create better interactions with their Scrum Teams, stakeholders and customers. They will learn how to adopt facilitation as a stance and enable the Scrum Values. Students will have the opportunity to address a series of common Scrum-related scenarios by applying several facilitation techniques that they can add to their collection of agile practices. They will create and leave with their own facilitation "plan" to improve their next team discussion or Sprint event.
Overview
Introduction
Facilitation principles and Scrum
Applying facilitation skills and techniques
Improving facilitation skills
Closing
Prerequisites

This course is appropriate for experienced Scrum professionals who want to learn how to use
facilitation to enhance team collaboration and reduce conflict. It is ideal for:
All Scrum Team members (Scrum Masters, Developers and Product Owners)

Scrum and Agile Coaches and Consultants
This course is not suitable for professionals with little Scrum knowledge or experience.

Certification and Assessment

All participants completing the Professional Scrum Facilitation Skills course will receive a password to attempt the Professional Scrum Facilitation Skills (PSFS) assessment. PSFS class participants who attempt the PSFS assessment within 14 days of receiving their free password and do not score the pass mark of at least 85% will be granted a 2nd attempt at no additional cost.

What else is included?

Course eBook
Membership to the Red Tangerine Slack channel giving access to our alumni community
Testimonials

"The class was very well organised. David shared his vast experience and attendees had enough practice sessions. David is an exceptional trainer and highly recommend him."
- Ojetunde Sangobiyi, Scrum Master
"Amazing training experience! In a very short timebox, Glaudia and David were able to engage a very dynamic class with real life examples and tales from their experience. We've learned powerful techniques and also practiced some of them. It was one of the best classes that I've participated in."
- Ciprian Banica, Agile Coach
"I loved this course as it was interactive and informative. I walked away feeling like I had gained a world of knowledge that I could use practically day to day."
- Nicole Grobler, Business Analyst
"Had a fantastic time with David and Glaudia. Learned a lot that I have already put into practice."
- Martin Hinshelwood, Professional Scrum Trainer
Terms and Conditions

View our full Terms and Conditions here.

Payment options
Payment can be made by credit / debit card or bank transfer. Please select the relevant option when booking.
A note for companies

VAT registered companies outside of the UK should be exempt from paying UK VAT. Contact us at info@redtangerine.org to make arrangements.

About the Trainer

David Spinks

David's professional experience spans roles of; Agile Trainer, Agile Coach, Scrum Master, Kanban Service Delivery Manager, Team Leader and Software Developer in a variety of industries, including finance, eCommerce, social housing and education. He is a Kanban University Accredited Kanban Trainer (AKT) and Kanban Coaching Professional (KCP), and a Scrum.org Professional Scrum Trainer (PST). David is also the co-author of the books Facilitating Professional Scrum Teams, Mastering Collaboration in a Product Team and Adopting Agile Across Borders.

David is a Course Delivery Enabler with Scrum.org. CDEs act as ambassadors for the Scrum.org courses that they support for the Scrum.org Professional Scrum Trainer community. This involves working closely with the community to improve course delivery and supporting Professional Scrum Trainers in gaining deep understanding of the intent and design of the courses and collaborating with trainers and the Scrum.org Courseware Team to identify and refine ideas for improving the delivery of courses.
David believes in servant leadership, and he values environments where empowerment, autonomy and flexibility enable teams to do the best work possible. He is committed to continuous learning and development in himself and others. He is passionate about getting the best out of teams and seeing people reach their full potential.

David is active in the global Agile community, including blogging, and speaking at conferences and meetups around the world.

David enjoys travelling, keeping fit, the outdoors and spending quality time with his guitar.

Price: £545

Early Bird Price: £495 available up to 1 month before the start date.
Prices exclude VAT.