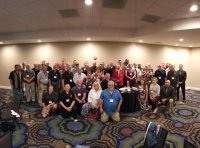 Come join us at Marine Corps Air Station Beaufort for our 2021 MACS Reunion. We have planned a golf outing, MCAS Tour, and a trip to MCRD Parris Island. Please make sure you use an active email address for information updates.

A $25.00 registration fee is added at checkout which includes 1 coin and admin fees for website upkeep and misc supplies. You can request a copy of our financial records at any time.
NO REFUNDS AFTER MAY 15th 20201. ALL EVENTS HAVE BEEN PAID FOR BY THEN
ITINERARY

NOTE: check in desk will be manned longer hours with
volunteers, if you wish to volunteer to take a shift, please
contact Frank and or Suzie at check in.
Wednesday 6/23/2021:
Check in at hotel lobby
1800 - Party on the patio, BYOB
Thursday 6/24/2021:
0900 MCAS Tour, self travel
1600 - Golf match, three club, Best Ball fun match. Teams drawn from hat trophies top 3 teams
and worst team. Fun game for all, not a serious golf outing, self travel. 18 hole green fees and cart
included in price.
1800 - Party on the patio, BYOB
Friday 6/25/2021:
0800 - MCRD graduation and museum trip – self travel
1800 Party on the patio, BYOB
Saturday 6/26/2021:
Free day to sight see
1800 - Banquet at MCAS Beaufort Officers Club – self travel
Sunday 6/27/2021:
Visit, say your goodbyes, and check out.