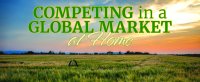 Join us for the 36th Annual MABA/MGEA Annual Convention "Competing in a Global Market at Home". Use the link to the right to sponsor or exhibit with us!
"Competing in a Global Market at Home"
January 24 – January 26, 2024/Heritage Inn/Great Falls, Montana
If you've been looking for a way to reach the maximum number in the Montana retail pesticide, fertilizer, seed and grain business, this Trade Show is the event of the year for YOU –no other event comes even close to reaching this audience!
The MABA/MGEA Convention is the only one of its kind in Montana – by business for business. The presentation and information are specifically designed to allow agricultural businesses and grain elevators to provide better service to their grower customers. As an exhibitor and/or sponsor, please refrain from inviting and conducting business with grower/customers at the Convention and Trade Show. If you must do so, please do it off location.
SCHEDULE
Our convention schedule caters to the Trade Show Exhibitor and to Convention Sponsors. Events scheduled for the Trade Show Area:
Wednesday & Thursday
10 am – Convention Break
Noon – Lunch with Special Speakers and Events
3pm – Convention Break
4pm – 7pm – Wed. Trade Show, Raffle, Give A-ways, and Thurs. Keynote Speakers
All breaks and lunches will be in the Trade Show area to provide participants with time to visit your booth.
Eight $50 bills will be given away and 2 items will be raffled during the Trade Show.
All proceeds will be donated to the FFA Foundation and the 4-H Foundation
TRADESHOW BOOTHS
We've worked on the layout over the years to ensure great traffic exposure to all booths!
10' x 6'd pipe and drape booth
2 chairs
500w/110v electrical outlet
For any other services, display and material shipping or additional needs, contact K&J Convention Services 406.442.3238 or webreply@kjconventions.com
Setup: Tuesday, January 23rd, 1pm
Teardown: Thursday, January 25th, Noon
Exhibit Service Kits will be published for download in December at kjconventions.com/maba
2024 exhibitors can reserve same booth as year 2023 by November 15th (see last year floor map attached)
SPONSORSHIP
If Trade Show participation does not fit your plans or if you want even more exposure, sponsorships are also available to spotlight your company.
All sponsorships include program and session highlights and signage