---
---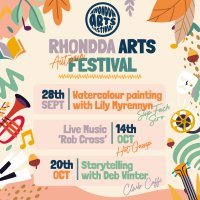 Join us for a relaxing evening of painting. Don't wear your Sunday best as you may get paint on it, but know that all materials will be provided. This is a free event put on by the Rhondda Arts Festival, supported by the levelling up fund. A couple of points throughout the evening we will ask you some questions about the festival to help with our planning for next year. Any questions please get in touch. Refreshments will be available.
Lily is an artist from Trealaw who works mostly in the field of book illustration. Her work has a focus on earthy colours, organic mark-making and atmospheres ranging from cosy to creepy. She works with both traditional and digital materials, though prefers for her work to retain the loose, naïve feel that comes with the influence of folk art and nature. // Artist o Drealaw yw Lily, sy'n gweithio yn bennaf yn y maes darlunio llyfrau. Mae ei gwaith yn cynnwys lliwiau daearol, marciau naturiol, a theimladau yn ymestyn o glyd i iasol. Mae hi'n gweithio gyda deunyddiau traddodiadol a digidol, ond yn hoff iawn o'r effaithiau a gweadau organig sy'n dod o ddylanwadau celf gwerin a natur.
Y Siop Fach Sero is a Sustainability Hub based on Ferndale High Street, set up to make eco-friendly living accessible and affordable to people in the Rhondda Fach. There are many things on offer to help achieve this, including a zero-waste and refill shop to save money and eliminate plastic, along with a café selling locally roasted coffee and vegan cakes! They run regular free workshops and events which are fun, educational, and always kind to the planet. // Hwb Cynaliadwyedd ar y Stryd Fawr yn Glynrhedynog ydy Y Siop Fach Sero, wedi sefydlu i wneud byw ecogyfeillgar yn hygyrch a fforddio am pobl yn y Rhonddda Fach. Mae llawer o pethau yn Y Siop i helpu i cyflawni hyn, yn cynnwys siop gwastraff ddim ac ail-lenwi i arbed arian a dileu plastig, ac hefyd caffi sy'n gwerthu coffi wedi rhostio'n lleol, a teisennau fegan! Maen nhw'n gael gweithdai ac digwyddiadau am ddim yn cyfreol, sy'n hwyl, addysgol, a garedig i'r planed bob tro.