---
Buy tickets
Ticket Type
Price
Fee
Quantity
---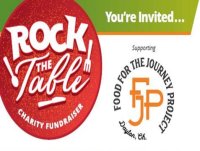 Join us, Saturday, November 2, for a culinary celebration while raising awareness and funds money to support Food for the Journey Project.  Engage with chefs, registered dietitians, and experienced hostesses to learn how-to's and take home tips to make your guests feel welcome and special as you ROCK THE TABLE!

Showing Love Through Food!
• Upscale Silent Auction
• Fund a Need
• Seated Brunch and Lively Culinary Experience
• Building a Sharing Platter
• Flavor Enhancers: Dips, Drizzles and Dressings
• It's all about the Experience
Hear from FJP Executive Director, Chuck Wourms, about how FJP
plans, preps and serves meals in the Dayton community and how
YOU can be part of this!

Rock the Table is being organized by a group of women who are passionate about
our community and showing love through food. Your event hostesses:
Lisa Bidwell, Jacqui Bolger, Sandy Guilfoyle, Heidi Hennessy, Jane Key, Andee Koczak,
Mary Jane O'Hara, Dr. Eleny Fronista Piontek, Julie Taylor
Special Thanks to our community partners who
helped make this event a success:
DLM, Moraine Country Club, Ohlmann Group

Food for the Journey Project (FJP) prepares hot evening meals and serves them with DIGNITY to hungry families in the Dayton community. FJP believes that all people deserve an inviting, healthy and dignified dining experience. Guests not only come for the meal but for love and acceptance, and they leave knowing that someone really cares.

Join us in the journey!