---
---
Certified Scrum Product Owner - Workshop Overview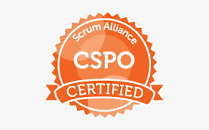 Join us in this weekday workshop which prepares you to be successful as a Product Owner– helping shape products and services that delight customers. This course is centered on building the core skills product owners need to do their day-to-day job. 
It focuses both on strategy and tactics and is well balanced with an actual product build, discussions, and other activities. You learn everything from ideation, vision, and road mapping to building out a well-shaped product backlog. You will also learn how to work well with stakeholders, other leaders within your organization, and your team members.
Learn More at https://agilists.co/certified-scrum-product-owner/ ;

          Our Recent Workshop Participants
Who is this for?
Scrum Product Owners
Business Analysts
Product Managers
Team Members - Developers, Testers, Designers, Business Analysts and Architects.
Professionals looking to advance their careers in Scrum and Agile methodologies.
Scrum masters who are trying to understand how their product owners work.
What do you get

In this workshop, you will engage with fourteen hours of carefully curated virtual content.
This class is a live workshop, no recorded content.
This class provides powerful, actionable insights & skills that you can immediately apply to your role.
Time with Vibhu, who is a practicing Agile Thought Leader
Access to Agilists Monthly Content
A two-year membership in the Scrum Alliance – a $100 value
14 SEUs towards your CSPO designation within the Scrum Alliance.
14 PDUs with PMI, if applicable.
If you are currently seeking employment and want some advice on your resume, we can schedule an hour with Vibhu to prepare you for future interviews at no additional charge.