---
---
Certified ScrumMaster - Workshop Overview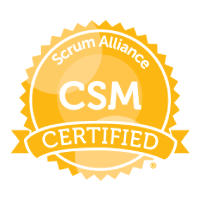 Join us in this weekday workshop on building authentic and engaged teams that deliver exceptional customer results. We'll delve into the Scrum Framework and focus on creating an Agile Mindset within the team.
We'll cover key topics such as team collaboration, product testing, and techniques for elevating team performance. We'll also address the challenges of team fatigue and working remotely and provide practical solutions.
Learn More at http://Agilists.co ;

          Our Recent Workshop Participants
Who is this for?
Project managers
Team leaders
Agile enthusiasts
Individuals looking to improve their project management skills
Professionals in software development, IT, and other related fields
Individuals looking to advance their careers in Scrum and Agile methodologies
Teams or organizations looking to implement Scrum in their workflow
Anyone interested in learning about and understanding the Scrum framework for managing projects.
What do you get

All exam and certification fees included
14 hours of carefully curated virtual content
Two years of membership with Scrum Alliance
Access to exclusively curated Agilists Unlearning Content
Post-class support via email for up to six months
14 Scrum Educational Units (SEUs) that count towards future Scrum Alliance Certification
14 PMI Professional Development Units (PDUs)
Pre-work assignments to prepare for the classes
Quiz and test prep included
Access to templates and reading content useful for Scrum Masters
Certified ScrumMaster (CSM) designation upon passing the certification exam
Real-time case studies and two decades of experience packed into real-life examples
Participation in individual and team activities
Storytelling and Visual Cues with live drawing to aid visual learners.