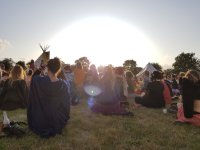 Woman Fest: The all-Woman Radical Participation Festival will be returning for our THIRD YEAR! 
Wow.....The Magic keeps coming, the Medicine keeps coming, And OH, what Women keeping coming.
The world feels like it's burning around us, we need each other more than ever. 
To year 3! The Triple headed Goddess - The Maiden, Mother and Crone. - May we all rise to meet the challenges ahead in our Authenticity.
The Sisterhood keeps gathering......and we'll keep going till we find the New World - One of inclusivity, community, regeneration and No Harm to our planet and all beings - This is our Prayer, our Deepest longing and our Purpose.
We are trying something new this year at WomanFest - Where we no longer have the distinction between volunteer and participants - IF we are going to label ourselves a radical participation festival - we want to keep delving into what that really means! 
What this means this year is that there are two ways into the festival - As an active part of our community, or as a visitor - this is reflected in the price, but don't let that put you off donating more! We're here to put on a beautiful gathering, but we are also here to plant some trees!
You'll see that there are many ways to Participate in the festival - you can teach, perform, help in the Spa, Park cars - Whatever you want! Many hands make light work, so instead of volunteers working 4-6 hour shifts a day, all participants will have a Tribe gathered around a specific area of the festival and all work together to be part of our community. 
This is our festival, our community - everyone is needed, everyone is valued.