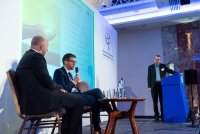 The Outstanding Security Performance Awards (OSPAs) is delighted to announce its renewed collaboration with the National Security Inspectorate (NSI) for the sixth UK OSPAs Thought Leadership Summit taking place on Thursday 22nd February 2024 at the Royal Lancaster Hotel in London.
The Thought Leadership Summit provides an unparalleled opportunity for security providers and industry stakeholders to gather together to delve into, question and deliberate the topical issues impacting the UK security sector. The event creates an environment that promotes the sharing of best practice amongst attendees, fostering cooperation.
Reflecting on the success of previous Summits, it is evident senior leaders highly value this platform. Connecting with peers and industry stakeholders, they engage in debate and participation in the interactive Q&A sessions with speakers.
While the full agenda for this compelling event will be announced over the coming months, security organisations and industry stakeholders are encouraged to save the date in their calendars.
Richard Fogelman, NSI Chief Executive shared his perspective on the Thought Leadership Summit stating, "Having experienced last year's Summit just before I formally joined NSI, I was struck by the audience's engagement in discussions. Witnessing constructive dialogues on challenges and the open exchange of best practices underscored the industry's dedication. NSI is delighted to continue our collaboration with the OSPAs team to collectively develop a compelling programme focusing on subjects that resonate with the forward thinkers in the industry and we look forward to another insightful event."
Professor Martin Gill, founder of the OSPAs said "The OSPAs Thought Leadership Summit has established itself as an event not to be missed within the security calendar. It once again promises to deliver hot topics to inspire thinking, whilst providing a platform to debate and challenge matters that effect all those working in the sector. We are delighted to be working in collaboration with the NSI to bring you the next edition and we urge you all to save the date."

Doors to the Thought Leadership Summit will open at 11:30, lunch will be provided, and an exhibition of products and services will be on display. The event will start at 13:30 and will finish at 17:15. The OSPAs Awards Dinner will follow at 18:45.
Places are limited - Book your Summit Delegate place now for £99 + VAT (includes lunch, entrance to the exhibition, conference and afternoon refreshments).
For those wishing to promote their products and services to a diverse audience of stakeholders, desktop exhibition space is available on a first come first served basis at £495 +VAT (includes 2 Summit tickets).