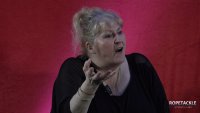 You are invited to a unique, immersive weekend of storytelling for adults.

The City of Shadows and Magic appears as part of 'The Song of Lilith' and it is huge: it contains twenty-seven doors, each with a different story behind them.
We will find out about Lilith's early life, her engagement with Babylon and the rest of society at that time. We will also hear tales of the other women, men and children that inhabit The City of Shadows and Magic.
Is there parking?

Yes, there is a car park opposite the hall, and you can also park along the road. There are two disabled car parking spaces immediately outside the hall.
What are the timings (for the whole weekend)?
On Friday, the hall will be open from 6pm. Feel free to bring food to share for dinner. Arrive around 6pm for cup of tea before stories begin at 7.30pm. We'll end around 9.30/10pm.
On Saturday, arrive for 10am, we'll have stories in the morning, there'll be a pause for lunch of soup and salad, then some stories after lunch, then break sometime in the afternoon to take an optional stroll. Then there will be stories at 7.30pm and we'll finish around 9.30/10pm. 
On Sunday, arrive for 10am, we'll have stories in the morning and we'll finish after lunch (more soup and salad) around 2pm.

Do I need to bring anything?
Mostly… bring your good ears and hearts to listen.
If attending in-person, bring a bit of food to share on the Friday night. We'll be making lunches but you'll need to sort out your own dinner on Saturday.
If you'd like to bring your own chair, you are welcome (there will be regular chairs provided).
What is included in the ticket price (full weekend in-person)?
All the storytelling, lunches, teas, coffees, cake, and biscuits through the weekend.

What is not included in the ticket price?
Accommodation is not included. You will need to sort out somewhere to stay separately.
Dinners are not included. I suggest bringing some food to share on the Friday and perhaps we'll visit a local pub for food on the Saturday.
Any tips on finding accommodation?
The nearest Travelodge is 5 mins away on the outskirts of Bangor.
There are many places listed on AirBnB too.
There are bunkhouses about 5 mins drive away in Gerlan, Bethesda and the Ogwen Valley.
Camping options if you're feeling brave in October.
Any other questions?
Give Claire a call on +44 (0) 7970 409 724 or email claire@anadlu.com