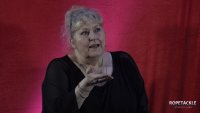 Join a Tellers, Tales, Tradition weekend from where you are on Zoom.
You are invited to a unique, immersive weekend of storytelling for adults with Shonaleigh, the world-renowned tradition bearer and storyteller. This is a rare chance to hear these ancient tales in the light and on the tongue, stories untold for two generations and barely spoken of for decades. 
The City of Shadows and Magic appears as part of 'The Song of Lilith' and it is huge: it contains twenty-seven doors, each with a different story behind them.
We will find out about Lilith's early life, her engagement with Babylon and the rest of society at that time. We will also hear tales of the other women, men and children that inhabit The City of Shadows and Magic.
Suitable for adults and 14+.
What are the timings (for the whole weekend)? Note all of these are UK time (BST).

On Friday, the Zoom room opens at 7.30pm. We'll end around 9.30/10pm.
On Saturday, the Zoom room opens at 10am for the morning, 2pm for the afternoon (a short session) and 7.30pm for the evening.
On Sunday, the Zoom room opens at 10am. We'll end around 1pm.

Do I need to bring anything?
Mostly… bring your good ears and hearts to listen. 
What is included in the ticket price (full weekend on zoom)?
All the storytelling but you'll have to sort out your own snacks and comfy ambiance!
Any other questions?
Give Claire a call on +44 (0) 7970 409 724 or email claire@anadlu.com