---
Available dates
---
Buy tickets
Ticket Type
Price
Fee
Quantity
---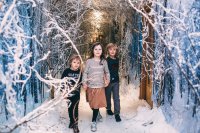 Did you hear the news? Father Christmas has had to do an emergency landing, right here in Bedruthan Hotel! And pieces of his sleigh are scattered all around! Can you help him find the missing pieces to fix his sleigh in time for Christmas?
Come on a magical adventure with us this Christmas: meet Tomte, Astrid, the friendly elves and loveable reindeer in Tummetott village. Enter Festlig Wood lit by candlelight and decorate beautiful wooden Christmas tree decorations to hang on your own tree at home. Visit the Ice Queen in her snow cavern, throw snowballs and make snow angels. Finally, wind your way through the frozen forest to find Father Christmas's Sugar and Spice Grotto to meet the old man himself and help to fix his sleigh and save Christmas!
Your mystical experience will take at least an hour, including plenty of photo opportunities with our festive friends and Father Christmas, a tree decoration to take home with you, time to play in the snow cavern, a visit to Father's Christmas's grotto including a gift and plenty of time to explore the wintery woodlands. You can also visit the Supper Kabin for a range of hot beverages and festive tipples.
If you have any enquiries please don't hesitate to contact our Grotto Team by emailing grotto@bedruthan.com
Before booking please make sure that you have read our FAQ's and T&C's. For any enquiries please contact our Grotto Team on grotto@bedruthan.com
Looking for a different date? Visit the Sugar and Spice Grotto page on the Bedruthan website.
Terms and conditions of purchase
Please ensure that you book the correct time slot and quantity of tickets. We are sorry but no amendments or refunds will be given for any reason.
Tickets are available to purchase until 23:59pm on the day before the session. Unfortunately, tickets will not be available on the day.
All tickets must be purchased online; they cannot be purchased from the hotel in person.
Any times not displayed for a particular day are either sold out or unavailable – please select an alternative time.
Every child needs a ticket and each ticket allows one adult to accompany them. A one to one ratio is not required if you have multiple children.
A maximum of one additional adult ticket can be purchased per transaction at £5 each.
Ideal for pre-schoolers are our off-peak tickets, which are available on Wednesday 4th, Wednesday 11th and Thursday 12th from 9:45am until 2:00pm.
Children who have learning difficulties, require additional care or a quieter experience are welcome to all sessions, but we do have specific quiet sessions available if needed on Monday 2nd, Tuesday 3rd, Monday 9th and Tuesday 10th at 2:00pm.
All children must be accompanied by an adult throughout the Grotto experience.
Please note that you can bring an under one-year-old with your older children free of charge, but they will not receive a gift or take part in the activities. 
But if you are just bringing an under one-year-old then a grotto ticket (1 child including entry for 1 adult) will be required and they will be able to take part in the activities and receive a gift.
We reserve the right for admission refusal if you do not turn up on time or do not have valid tickets upon arrival.