---
Sold out
Ticket Type
Price
Fee
Quantity
---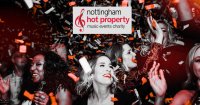 Join us on 21st November at Pryzm for Nottingham Hot Property's 15th anniversary show!
This year's theme is 'Throwback Thursday' and it promises to be a fantastic night of entertainment with plenty of well known hits to sing along to.
All the proceeds raised from the event this year will be going to Switch Up, a Nottingham charity that helps steer children and young people away from criminal activity through sports, counselling and peer mentoring.
All tickets to be purchased though the online system. You will need your ticket barcode on the night to gain entry to the event. Please ensure you have a paper copy or on your smartphone for each guest.

Nottingham Hot Property is charity music event hosted by Nottingham's property and professional sectors. It's an evening where local professionals are organised into bands and perform hits for their peers during a fun filled evening of music and dancing.
Thank you to this year's sponsors: 
Savills, Pulse Consult, Fraser Brown, Couch Perry Wilkes, Samclo Construction, CPMG, Invest in Nottingham, Faithful & Gould, Shakespeare Martineau, B&M Installations and our supporters at Cartwright Communications, Blimey Creative, Ginger Root & The Business Desk.

We'd love you to celebrate with us, see you there!
(We've included a small booking fee for your tickets, this helps cover the admin charges for the ticket system so the charity doesn't lose out, we hope that's ok!)