Weekly Meditation & Modern Buddhism Classes 
With Buddhist monk & meditation teacher Kelsang Jangchub.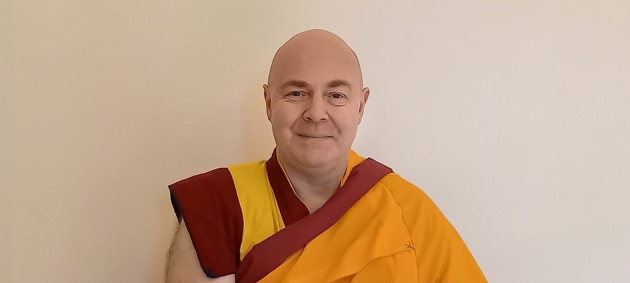 Kelsang Jangchub is a Buddhist monk and the Resident Teacher of Kalpa Bhadra Kadampa Buddhist Centre. He has studied and practised Kadampa Buddhism for many years and is known for his good heart and dedication; he teaches in an open and accessible way making Buddha's teachings and the practice of meditation relevant to everyone.

EVENT DETAILS

Eight Steps to Happiness
Everyone is looking for happiness all the time and wants to be free from problems. We can fulfil these wishes through understanding and practising eight special instructions that reveal how we can transform our mind from a state of confusion to perfect wisdom and compassion.
Each class includes a talk, meditation and discussion. Everybody welcome.
Day & Time Wednesdays 10.30 - 11.45 am

Drop-in class Dates Oct 18, 25, Nov 01, 08, 22, 29, Dec 06, 13 (No Class 15 Nov)
Fee £6 per class, or £38 for 8 classes / Free for Centre Card Holders

Tickets please book in advance to save your space or just drop in.
Venue FRhyl Botanical Gardens, Grange Rd, LL18 4DA
Accessibility The venue is fully wheelchair accessible.

About us Kalpa Bhadra Kadampa Buddhist Centre is based in Llandudno and offers a programme of classes, courses and retreats for everyone who wants to learn more about the study and practice of Buddha's Teachings in modern life. For other course and to join our mailing list please visit our website