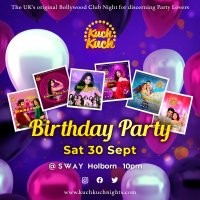 Kuch Kuch Nights..
Birthday Party - Saturday 30 September
@Sway Bar - Holborn 61-65 Great Queen St, London WC2B 5BZ. 10pm - 3am
You're Invited! Celebrate our Bollywood Birthday with us! No gifts but do sparkle up in your beautiful best Birthday Party attire and join us on the dancefloor. By invitation only to Kuch Kuch Bollywood Party Lovers ;-)

Doors open 10pm followed by our Fab, Free, Fun Bollywood Dance Class with Epika Dance Troupe. Then take the dance floor as the legendary DJ Ritu (BBC/Resonance FM) & San-J Sanj (Sunrise Radio) spin your favourite classic & current dancefloor Bollywood tunes to celebrate our Birthday Bollywood style! 
VIP Tables £25pp Email us with your group size - we will reply when we have a suitable table available to allocate. (£50 deposit required) *Terms & Conditions Apply including MRRA. 
Food - Delicious Margherita Pizzas available to order until late (pay as you go).
VERY Important UPDATE, PHYSICAL Form of Photo ID required for Entry! NO copies/scans in smartphones as these are not accepted. No Refunds.

Tickets
£15 +bkg/fee *Advance Ticket T&C's apply. MRRA. No Refunds. £20 on door.
£25 VIP Advance Booking by email only. £50 deposit will be required to confirm VIP booking.
VIP Tickets: 
include Q-Jump, dedicated VIP Table and Bottle table service. Advance Booking Only Email us with your group size - we will reply when we can allocate a suitable table. (£50 non-refundable deposit will be requested to confirm).  Minimum Spend Apply (£50 table x2 guests, £100 for table 4 guests, £250 for 10+ guests. Seating is not restaurant style, 50% guests can be seated at any one time). *MRRA. No Refunds.

*All Advance Tickets & VIP's arrival by 11pm required 

T&C's / Entry Conditions include 

PHYSICAL Form of Valid PHOTO ID for entry. (NO scans/copies in phones) REGARDLESS of age.

ALL Advance Tickets & VIP's arrival by 11pm 

Mixed Gender Groups 

Dress Code: Smart, Sparkling + :-) optional theme colourful colours! 

Over 23's (ID required regardless of age)

Right to Refuse Entry Reserved. MRRA. No Refunds.
Please do not attend if you feel unwell.
Sign up to our Mailing List and don't miss out!
Recorded Infoline: +44 (0)7956 801224
Email: info@kuchkuchnights.com
Website: kuchkuchnights