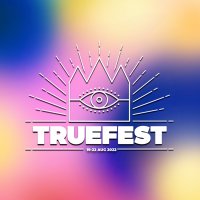 Truefest is an independent music & arts festival and epic mansion party rolled into one! 1 hour from Bristol & Cardiff with a swimming pool, hot showers, camping, hotel rooms, glamping and free parking reviewed by Mpora as the "The friendliest festival in the UK!". Expect band and DJ stages inside the mansion going until 5am and outdoor stages with amazing views of the Wye Valley and Brecon Beacons. When the sun goes down Baskerville Hall becomes the canvas for incredible projection mapping and AV shows from Guildhall Live Events. They will be showing unique VJ shows as part of their amazing light show. We also have a Tiki cocktail bar, an indoor pub and a variety of food with vegan and vegetarian dishes to choose from.
TRUEFEST 2022 LINE UP: 
Joe Goddard, The Allergies Live, Slamboree, Smoove & Turrell, Lazy Habits, Too Many T's, Dead Horse Beats, Frances Lion, Madame Electrifie, Carys Eleri - Discorét, Freear, Monty Carlo, Alex Davies, Oli Silva, CVC, Lost Sound Project, Mamilah, Anomic, Neontopia Theatre, Oli Keens, Andrew Marston, The Junkoactive Wasteman and the Tin Can Twins, Angel Hotel, Otter Produces, Dan's People, Ecklectic Mick, The Cash Cows, Gemini, Excellent Skeleton, Hunter From Fremonte, Saccharyn, Francesca's Word Salad, Ophelia Xerri, Nick Thomas, Rotary Club, Swando, Benny Bootleg, Jimanoli, Sir Jasper, Mobility, Josh Davies, Pigeon, AARMSTRONG, Lubi J, Scruffy Monkey, Kiarash, Mister Steve, Paul Sweeney, The Sparklettes.. MORE TBA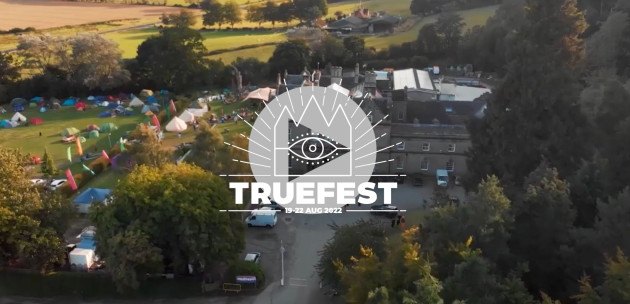 Fancy Dress Theme: Let There Be Light
In association with:
Guildhall Live Events - Immersive & interactive digital experiences
Soundfangled - Event equipment & services
SR Productions - Lighting


We have a big line up for an intimate festival (see below for previous artists) and  as well as the music we have theatre and the arts in the same grounds that launched Green Man festival and our earlier incarnation Troyfest. If you need to relax and recover there is yoga and massage or even a short trip down to the river Wye for some wild swimming.

Mpora - "This party is made up entirely of awesome fun-loving folk. If you feel disenchanted by huge corporate festivals, Truefest is the exact remedy you need. During the day when we weren't lazing around in hammocks drinking cocktails, we were exploring the stunning countryside around us and swimming down the nearby river (the perfect hangover cure!). After sunset we danced to DJs and live music till 5am, before heading back to camp and watching the sun come up before bed"

Cultured Vultures wrote - "Truefest is, in essence, a 3-day long house party in a giant mansion near Hay-on-Wye in the shadow of the Brecon Beacons. It has to be seen to be believed"

Social Media:
Facebook  https://www.facebook.com/truefestuk
Instagram https://www.instagram.com/truefest 
Twitter https://www.twitter.com/truefestuk
Our website is https://www.truefest.co.uk/  Any questions please send to info@truefest.co.uk
Limited hotel rooms will be available for sale but camping is included in your ticket as well as campervans being free to park. 

This is an over 18's event and cars, camper vans and live in vehicles all have free parking.
No dogs are allowed on site except for guide dogs.

Here is a Spotify playlist of the amazing music played by artists that have perfomed for us.. https://rb.gy/7uorzt
Previous line ups have included:
DJ Yoda, Benny Page ft SYE MC, Beardyman, Mungo's Hifi feat. Jman, Gilles Peterson, Mr. Scruff, Dr. Meaker, Henge, Buzzard Buzzard Buzzard, CVC, Malavita, Konketsu, Onipa, Darkhouse Family, Binbag Wisdom, The Mouse Outfit, The Nextmen, Smerin's Antisocial Club, Lazy Habits, Ichi, Mr Woodnote, Lil Rhys & Eva Lazarus, Broken Brass Ensemble, Boy Azooga, Craig Charles, Molotov Jukebox, Cut Capers, DJ Format, Imperial Leisure, The Allergies, Smokey Joe & The Kid, Afro Cluster, Anchorsong, Too Many T's, Asbo Disco, Babyhead, Big Swing Soundsystem, Solomon O.B, Bobbie Johnson, Bodhi, By The Rivers, Chainska Brassika, Sounds of Harlowe, DJ Cheeba, DJ Moneyshot, Dub Mafia, Hackney Colliery Band, Hermigervill, Inja & Chris Munky, Jenna & The G's, Jeremy Underground Paris, Joe Driscoll & Sekou Kouyate, Johnny Cage & The Voodoogroove, K.O.G. & The Zongo Brigade, Laid Blak, Lakuta, MJ Cole, Madame Electrifie, Matuki, Monty Carlo, Pink Oculus, Sion Russell Jones, Regime, Smoove & Turrell, Solo Banton & The Upper Cut Band, Subculture Sage, Tankus the Henge, The Future Dub Project, They Say Jump, True Ingredients, The Future Dub Orchestra, TWOGOOD, We're No Heroes, Wille and The Bandits, Wonka-Vision, Yumi & The Weather, Zen Hussies, Abandoman
Terms & Conditions

 https://www.truefest.co.uk/terms-conditions/


Truefest Limited company number 09996431