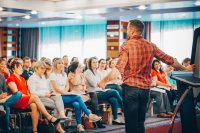 Pat Divilly Live- Spring 2020 Tour 
Tickets- €35 
Time- 7.30-9.30pm
Location- The Talbot Hotel, The Quay, Whitewell, Wexford, Y35 FP9P
'Don't gain the world and lose your soul, wisdom is better than silver or gold' Bob Marley

Come join me for a 2 hour evening workshop filled with stories, lessons and new perspectives to support you on your own individual journey.

It's time to slow down in order to speed up.

In a fast paced world we can find ourselves caught on the hamster wheel, trudging through days filled with activity but perhaps not feeling like we are moving confidently in the direction of the goals that are most important to us.
It's easy to lose sight of what's most important in life and get caught in the rat-race.

Many of our decisions and actions are based on social conditioning and our past experiences moving on auto-pilot in our thoughts, beliefs and actions.

This evening workshop is a chance to press pause and gain some perspective and insight.
We'll cover
-A new approach to 'managing' stress and overwhelm
-How to take back control of your energy and feelings
-Simple tools for increasing clarity and confidence
-The power of embracing a beginners mindset
-Dealing with negativity and criticism
My hope for those attending the evening sessions is that they leave with a new sense of passion, purpose and hope. Nothing changes overnight and so this isn't a 'quick fix' or magic formula, but instead a selection of tools and perspectives that have dramatically helped me in my own life.

It has been evident from the wide demographic we see in these evening workshops that we are all seeking similar things in life- self compassion, clarity, fulfilment, purpose and meaning.

After nearly ten years working with clients in the fitness industry I came to see just how important inner self talk, clarity, confidence and goal setting were in making tangible changes in all areas of life. For that reason I've immersed myself and dedicated myself to sharing simple strategies that can make a big impact on how people see themselves and feel about themselves.
These sessions fill quickly and are always a really enjoyable night. I look forward to seeing you at one of the upcoming talks this Spring.

Keep Moving Forward,

Pat
FAQ

Who is this evening session for?
This session is for anyone who feels they are in some form of transition in life.

We've seen teenagers at the workshops with their parents attending to find simple strategies for dealing with stress and worry. We've also seen retirees looking to find clarity of their next 'chapter'. We've seen professional athletes, actors, musicians and artists, people at the forefront of their industries looking to get their edge.

Whatever your current position in life, this 90 minute session will give you the chance to 'meet a new part of yourself'.
Do I need a clear intention coming to the event?
No! Everyone has their own reasons for coming. Some have clear intentions, others just want to see what it's all about and there's always a few who have been dragged along! I trust that everyone who comes and gets involved with the session will get what they were supposed to get from the evening!

Is it ok to come alone?
Of course! Whether you come alone or with a partner, family member or friend you'll be encouraged to treat the 90 minutes as time for you to press pause and reflect on your own life. With 99% of our day to day life spent looking outward this session is about you.

I've never been to something like this before. What should I expect?
Expect to have some fun, meet some like minded people and leave with some new ideas, exercises and perspectives. Having attended personal development sessions, retreats and workshops all over the world the last ten years I've looked to put together an extremely practical and enjoyable evening session. This isn't going to feel like school or a lecture. It's not going to be hard work and it's not going to be 'airy-fairy' or woo woo!

A friend told me about the workshop but I'm not sure it's for me…..
I'd suggest checking out my podcast. If you like what you hear and it resonates you'll love the workshop. If you want to take a leap of faith and come along for the session there's no risk involved as I'm happy to refund your money if you feel it wasn't worth your investment! All I ask is that you stay for the full 90 minutes and come with an open mind! (There aren't any refunds of tickets in the event of not being able to make it but you can pass on or sell your ticket).
Please note there are no tickets or location transfers on tickets however if you can't make the event you can pass the ticket on to someone who might like to attend.