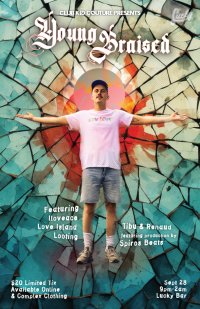 Come early and support your local music scene

Get dark & sweaty. Let loose and get in on the good goods.
~there is a No Pressure push to "dress", club kid vibes are welcome, loved & celebrated~
~*Be The Art*~
An inclusive community minded approach to this is priority, treat each other with tenderness and kindness
Young Braised
https://soundcloud.com/youngbraised
Young Braised has been featured in:
XLR8R, AdHoc, Exclaim!, Hip-Hop DX, The Georgia Strait, Discorder, and Beatroute and performed across North America with:
Madlib, Killer Mike, Curren$y, Yelawolf, Heems (of Das Racist), Huerco S., Jack J, Cloudface, and Juan Wauters
at Festivals including:
Pop! Montreal, Sled Island (twice), Rifflandia (twice), New Forms, Khatsalano, and Music Waste (headlining)
He has also worked with artists like:
Homeshake, The Courtneys, regularfantasy, members of Vancouver's Mood Hut Collective, and fish narc (producer for the late Lil Peep)
His music has been released independently and by Vancouver labels 1080p and Pacific Rhythm
Spiros Beats
Iloveace
https://soundcloud.com/iloveace
Asa(Iloveace) is a Black American born and molded by the Bay Area's underground punk scene. Before he spun records he shredded a guitar, renouncing the principles and ideologies of White Supremacy with his punk rock ballads.
Inspired by the Black and Queer Djs before him, he takes the genres of House, Drum n Bass, hip-hop and Dub-Step and laces them with messages of equity, freedom, and a good time.

Love Island
Tibu
Renaud

Local Victoria mc, does this for the love & fun of it.

Looting
https://soundcloud.com/looting_music
Andrew has been producing, djing, and hosting events in BC for over a decade. Consistently pushing underground and emerging artists and styles while creating music and DJ sets that blend jungle, modernist and classic hardcore, ukfunky, techno, experimental and banging club trax, dembow, reggaeton, hard drum, footwork and everything in between.
He has held a residency at Bloom nightclub and performed at Shambhala in 2019, Bass Coast 2023, shared lineups with DJrum, Murder He Wrote, Thelem, Sinistarr, D Double E, Little Snake, Dj Cure, Sorrow, Lunice, Michael Red, The Librarian, and many other notable artists.
Looting's latest productions have been supported on Rinse Fm and NTS by DJ Oblig, Bok Bok, Joanna OJ.
Andrew is actively working to bring the next generation of artists to the forefront of the scene.