For a happy humanity we need a holistic way of life. We need an ecologically regenerative culture, we need a spiritually satisfying philosophy and we need a socially just economic system. In order to weave these three interrelated dimensions together Satish Kumar will present a new trinity for our time.
This new trinity is Soil, Soul and Society. Soil represents Nature. Everything comes from soil and returns to soil. If we look after the soil, the soil will look after everything else. Soul is the inner dimension. Caring for the soul means developing compassion, gratitude, and generosity in our hearts. Society is the human dimension. We need to learn to live with each other peacefully and harmoniously and celebrate our national, religious and cultural diversities.
Schedule
We will start the day in nature with the gentle, ancient practice of Qi Gong led by lay Dharma teacher June Mitchell (who has been married to Satish for over 50 years). 
Enjoy wild swimming in the 7-acre lake or a guided walk through beaver territory and learn how we live in harmony with these once-thought-extinct ecosystem engineers.
You'll also have ample opportunities to enjoy 173 acres of regenerative estate  - roam our ancient woodlands, visit our regenerative produce garden or experimental agri-wilding projects. Meet Grandmother Tree and discover our hidden treehouse - sitting quietly here will reward you with the sight and sound of nature.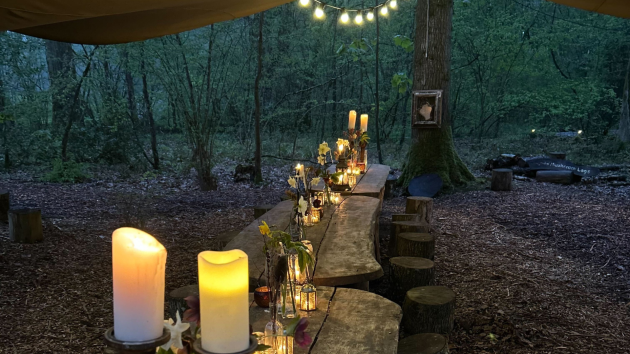 Food
Our "Soil to Gut" menu demonstrates a way of eating that both continues the traditions of the past and supports our shared future. The food you eat will be regenerative and hyper-local - much of it grown, wild-tended, and foraged on the land you're walking. We believe that as we cultivate and restore the well-being of our planet Earth, we cultivate and restore the well-being within ourselves.
One evening, we will gather in our intimate woodland dining area - nestled in a clearing under the forest canopy, for a magical experience of food, fire, and forest. The open-fire cooking and beautiful hand-carved banquet tables support us to reconnect with the land, with ourselves, and with the people around us. As the sun goes down, the forest lights up and we gather in a circle for fire-side chat with Satish and June. 
Come and join us to explore how you can be a part of natural, spiritual, and social transformation.
What's Included
Led by Satish Kumar - with talks, conversations, and fire-side chat.
Qi Gong "Bamboo Sticks" with June Mitchell
42 Acres nature-connection experiences
Elegantly simple, eco-powered accommodation
Evening forest dining experience
Nutrient-dense, hyper-local and wild-foraged meals from our 'Soil-to-Gut' menu
Wild Swimming
Freedom to roam 173 Acres of regenerative estate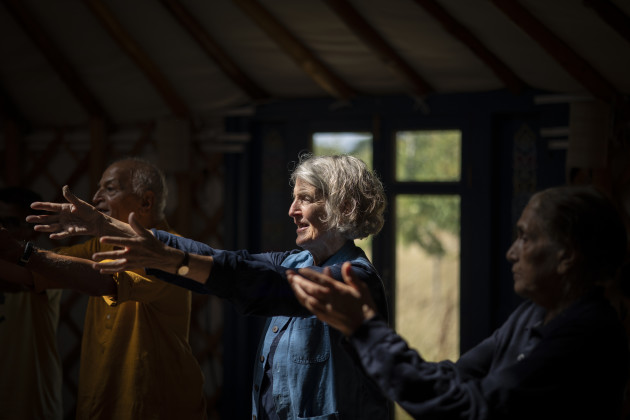 Accommodation
We offer a range of accommodation. Our design philosophy is " elegant simplicity" - based on Satish's own teachings. All our spaces are beautiful, simple, thoughtful, and sustainable. Our intention is for you to feel held in a loving embrace.
Tickets are sold per room. If you would like to share your room, please add the "Sharing Fee" to your booking to cover experiences and meals.