---
---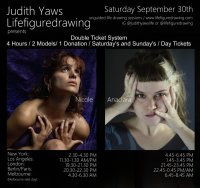 Double Saturday Ticket
2 Sessions unguided life drawing / 4 hours ( 2 models ) 

The ticket is donation based / minimum donation is 12 US$ per day ticket (min.

recommended 15 USD

as i need to pay the models.  4 hours drawing (2 models)

I am not sure how long I will offer this format, but I will continue trying to make it work

you are still able to purchase a ticket after it started, I will give access.

Each model will pose in a 2 hour session with a 10 minute break.
The dynamic of the poses will be announced. 
We will have the chance to share a little of the art during that break. After each model session we will not have time to share because I will need to switch all to the next model.

Timeline for this 2 sessions will be

Nicole (nude session)
5
7
10
10
15
20
10 Break
20
15-20 (Last pose will be time adjusted)

AnaClara (nude session)
5
10
15
15
20
10 Break
20
15-20 (Last pose will be time adjusted)
When you make your donation: recommended Donation 15.00 US$ (Thank you!)
Because of technical reasons there will be a Zoom Link for each session

You will receive an email with all the links and in addition: during the ongoing session I will always post the next Zoom link.
You will be able to leave the sessions and reenter . I will give you access.
please be so kind to pay attention to your time Zone/  its on the flyer: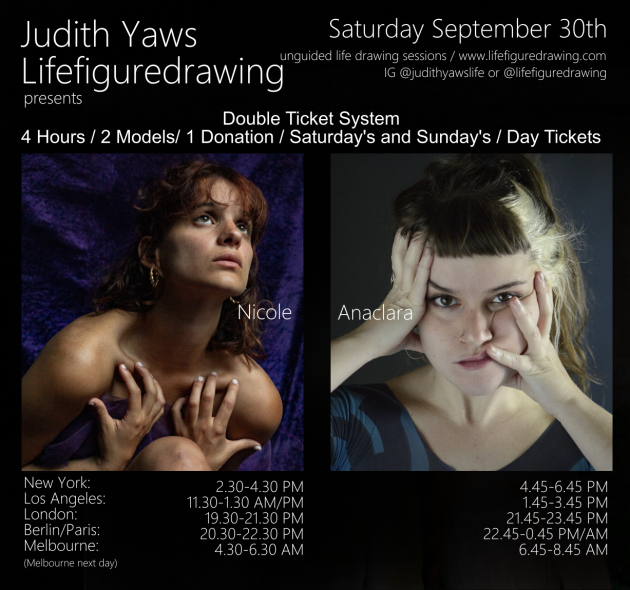 https://www.instagram.com/judithyaws/
https://www.instagram.com/lifefiguredrawing/
https://www.lifefiguredrawing.com/