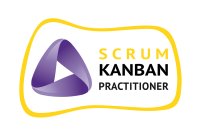 Improve your Scrum by adding the practices and evolutionary change approach from the Kanban Method.
Scrum Better with Kanban can help you improve your Scrum through the introduction of proven Kanban practices, principles, and the application of evolutionary change management. This course captures the lessons learned from Scrum Teams that successfully evolved their way of working through evolutionary change using the Kanban Method. Our hands-on training will ensure that you walk away with a proven approach to introducing changes that will deliver results for your team and organisation.
If you are a Scrum practitioner, team lead, Scrum Master, Agile Coach, or a manager who wants to understand an evolutionary approach to improving your Scrum using the Kanban practices, the Scrum Better with Kanban class is a great place to get started!

Overview
Introducing the Kanban Method
Kanban principles and practices
Introduction to workflow, work item types and work items
Using Kanban
Understanding change
Prerequisites
Students should be familiar with the Scrum framework and have applied it at least once within their organisation. It is mandatory that students are familiar with the latest Scrum Guide before attending this training.
Having a Scrum certification is not a mandatory requirement. No previous Kanban training or experience is required.
For all of our live virtual classes, we use Zoom as our conference tool. Zoom is very secure. It uses end-to-end encryption and delegates can only access the conference via an admin controlled waiting room. Activities are carried out with Mural and Jamboard. No software is required to be installed for these tools, though you may need to check that there are no security policies that block the use of these tools if you are joining us through a corporate network. We ask you to try to ensure a steady internet connection (for example by connecting through cable rather than with WiFi).

Certification

Upon completion of the class, participants will receive the Scrum Kanban Practitioner (SKP) credential from Kanban University.

What else is included?

Course eBook
Membership to the Red Tangerine Slack channel giving access to our alumni community
Terms and Conditions

View our full Terms and Conditions here.

Payment options
Payment can be made by credit / debit card or bank transfer. Please select the relevant option when booking.
A note for companies

VAT registered companies outside of the UK should be exempt from paying UK VAT. Contact us at info@redtangerine.org to make arrangements.

About the Trainers

David Spinks

David believes in servant leadership, and he values environments where empowerment, autonomy and flexibility enable teams to do the best work possible. He is committed to continuous learning and development in himself and others. He is passionate about getting the best out of teams and seeing people reach their full potential. David enjoys travelling, keeping fit, the outdoors and spending quality time with his guitar.

Glaudia Califano
Glaudia Califano is an agile and lean practitioner and mentor, working with and within teams. She loves to be hands-on, coming up with new ideas, and learning from those around her. Glaudia divides her time between the UK and Spain with her partner and her two dachshunds.

David and Glaudia both have extensive professional experience utilising agility, Scrum and Kanban in a variety of industries, including finance, eCommerce, social housing and education. They are Kanban University Accredited Kanban Trainers (AKT) and Kanban Coaching Professional (KCP). David is also a Scrum.org Professional Scrum Trainer (PST). They are co-authors of the books Facilitating Professional Scrum Teams, Mastering Collaboration in a Product Team and Adopting Agile Across Borders.
Price: £545
Early Bird Price: £495 available up to 1 month before the start date.

Prices exclude VAT.