---
Sold out
Ticket Type
Price
Fee
Quantity
---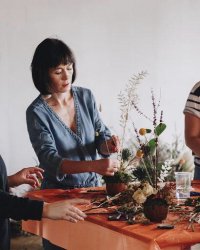 Make your own Christmas Wreath at this relaxed Sunday afternoon workshop at the Flowers Vermilion studio.
The wreath is steeped in folk culture and history, having been used in many celebration and memorial ceremonies all over the world. Following on from these traditional connotations you will take part in creating a beautiful Christmas Wreath from gathered dried flowers from Flower Vermilion's unique collection of hand picked dried flowers to take away as a decorative item for your home or as a gift. You will learn technical skills throughout the class such as: colour combining, flower selection, composition and texture, while building your confidence by developing intuitive responses to personal choice and composition. There will also be a large selection of ever greens and Eucalyptus to make a more bushy and festive wreath compared to the usual Flowers Vermilion, floral wreath style.
Workshop places are limited to 8 to ensure everyone taking part can benefit from individual attention in a relaxed and intimate setting to create displays you are proud of. Participants will leave with the confidence to further explore drying and arranging flowers for themselves and the skills to make thoughtful future gifts.