---
Book your seat
Ticket Type
Price
Fee
Quantity
---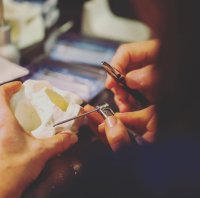 SUMMARY
Throughout one day of an intensive course, a description of our experience of more than 25 years with zygomatic implants in the rehabilitation of the extremely resorbed maxilla will be shared. The participants will acquire knowledge regarding the use of zygomatic implants in different anatomic setups and their related prosthetic rehabilitation. We will discover different surgical techniques and their benefits and limitations including the classic intra-sinusal technique, the extra-sinusal technique up to the ZAGA philosophy. We will provide detailed insights into the latter in order to prevent surgical and prosthetic complications. Moreover, virtual zygomatic planning and hands-on training in customized artificial phantoms will be made available.

PROGRAM
8:30 – 9:00 Registration
9:00 – 12:00 ZAGA Philosophy, Criteria of Success and Soft Tissue Management by Dr Aparicio
12:30 – 13:30 Lunch (Included)
13:30 – 14:30 Complications
14:30 – 18:00 3D Models Hands-on


FEEDBACK FROM THE 3-DAYS EDITION
"Intense, comprehensive and a must for any surgeon interested in providing this treatment."
- Johann Styger

"I have taken some zygoma course before but I think this is the best because of the organization with real DICOM file and because of the incredible theoretical part of Doc Aparicio. Congratulations!!!!"
- Giuseppe Piermontese