---
---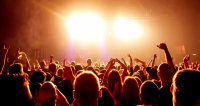 Olliefest 2021

We, the organisers of Olliefest have been working tirelessly in the anticipation that we can bring you a full weekend event at this years Olliefest 2021. However, with uncertainty on mass gatherings still prevalent we have regrettably taken the decision that this year OllieFest can not offer camping. With the risk of the virus transmission still quite high, and uncertainty with a full lockdown of restrictions not confirmed, we are unable to bring you camping safely.

However, At this point in time, the two days and three nights of music, still look good to go ahead! 
Olliefest was first held in 2015 in response to the tragic loss of a member of Ross Rugby Club, Ollie Floyd. He was just 20-years-old when he died in March 2015, and was a popular member of the local Rugby Club. Ollie was a fun-loving, cheeky young lad who had a real zest for life! Unsure of how to bring the community together, friends and relatives put together a free community event featuring live music including several well-known headline acts, along with a friendly rugby match at Ollie's favourite place – the Ross Rugby Club!
The first event was a spur of the moment response to put something together, to acknowledge the grief of losing such a well-loved friend but to also lift the community's spirits and celebrate Ollie's life.
The event has grown massively over the last 5 years and now offers a wide variety of musical entertainment as well as a funfair, inflatables and plenty of places to eat and drink.
Sadly we can no longer offer FREE entry to Olliefest as 2019 ran at a cost to the organisers. Olliefest 2021 ticket entry will need to be paid for at the following rates:
Earlybird tickets for festival entry for every day at OllieFest 2021, available until 31st May 2021 will be just £15

£5 per person for Friday 27th August

£8 per person for Saturday 28th August

£8 per person for Sunday 29th August



After 31st May these tickets will increase to £25 for a weekend entry ticket.




£8 per person for Friday 27th August

£10 per person for Saturday 28th August

£10 per person for Sunday 29th August

Under 15s go free but must be accompanied by a full paying adult
Olliefest will continue to operate an eco-friendly reusable cup system which requires you to buy a cup for £2 (which is yours to keep!) And to use this cup when visiting one of the many on-site bars. There is a charge for parking of just £3