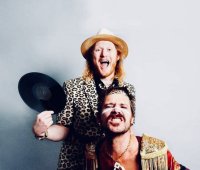 After another summer of full on festival fun the Junior Jungle crew are touching down in the 'Shire once more!!! Having hit main stages of some of the biggest names in the festi calendar... Boom Town, Bestival, Shambala of course Glasto to name but a few ... Junior Jungle crew are ready for another Jungletastic adventure and once again they're taking over the Roadmender! ... Make sure you don't miss this one and join us for the biggest, bestest family rave on the planet.
We'll be at the Roadmender on Saturday 29th February  from 2pm - 4pm as DJ Nick Terrific and MC Rocky Patch pull out all the stops once again to bring the hugest tunes to you and your little monkeys!
There will be more music, more dancing, more hazers, more lasers, more face painting, and more party than you can shake a jungle stick at!
If you love dancing, If you love Phat beats, If you love raving with your kids then come and spread the love with us.
At Junior Jungle we understand that taking the kids out for a treat can be expensive. We also believe it doesn't have to be. That's why with every kids ticket we give free entry to one adult! All Adult's must be accompanied by a Junior Junglist, a Little Monkey or a Tiny Dancer!
We recommend this as an event for under 10's however older siblings are more than welcome.
Babes in arms are free if accompanying an older sibling,. We understand that you may want to bring food and drink for your kids with you, please don't bring any nuts - NO NUTS IN THIS JUNGLE

Online Tickets:
CHILDREN £10 online - Each ticket admits one adult FREE.
EXTRA ADULTS £8 online - If a child is coming with more than one adult additional adult tickets will need to be purchased. PLEASE BOOK YOUR FREE ADULT PLUS ONE. So we can keep accurate numbers.

MAX 4 CHILDREN PER ADULT
Available from:
www.juniorjungleparty.com
Please note: We are unable to offer refunds if you are unable to attend once a ticket has been purchased. In the event of you being unable to attend an event you have tickets for we will credit you tickets to the next show you can make.