---
Buy Palm Swings Festival tickets here!
Ticket Type
Price
Fee
Quantity
---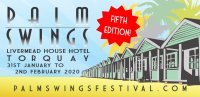 Welcome to the ticketing page for Palm Swings 2020! On the next page you will see several ticketing options, including tickets for couples, leaders and followers. You'll need to add your group name in the 'Groups' box at checkout.
Please also choose your accommodation. If you choose twin, triple or quad rooms then you will be asked who you will be sharing with at checkout.
At the payment screen, use the discount code 'PAYLATER' to pay 20% of the total amount now and the remaining amount a month before the festival (we'll be in touch when we need this).