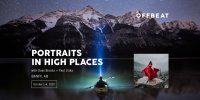 Please review our COVID-19 Workshop Protocols.
Location: Juniper Hotel + Banff National Park
Dates: October 1-4, 2020

If you love adventure photography, the idea of the human element in a grand landscape/astro scene, or are looking for a vast, cinematic environmental feel to your portraiture or wedding images, this is the workshop for you!
Held in and around Banff National Park in some of the most stunning scenery Canada has to offer - with two photographers noted for their work that creatively mixes people and place - this workshop will challenge you to think large (dare we say "epic"). We will be lining up amazing models that will include fashion, wedding, adventure (think climbers and mountaineers), yoga instructors, and more. It's a portrait workshop for those with a landscape soul... but not at all bout the close-up. Rather, it will be about marrying the two elements, people and place, for breathtaking imagery.
Itinerary*
Day 1 - Thursday, October 1

11:00AM to 2:30PM - Group will meet at the Juniper Hotel and sessions will start at 11:00AM. Introductions, talks, slideshow and inspiration.

2:30PM - 4:00PM - Late Lunch and Prep for Field Session
4:00PM to 7:00PM - Photoshoot #1. Location TBD
Day 2 - Friday, October 2

6:30AM - Group meets at Tim Horton's in Banff
6:45AM Sharp - Group departs for the day - various stops along the Icefields Parkway and the Athabasca Glacier.

7PM return to Banff, end of day.
Day 3 - Saturday, October 3

8:00AM to 5:00PM - Photoshoots around Banff/Lake Louise

5:00PM - 7:00PM - Dinner
7:00PM to 10:00PM - Editing and Critique session at Juniper Hotel.

Day 4 - Sunday, October 4

7:45AM-10:30AM - Meet up for final Photoshoot. Location TBD. (Near Banff)
10:30AM AM to 12:30PM - Group finale brunch
*The itinerary above is subject to change. All registered participants will be sent a final itinerary 2 weeks prior to the event start date.
Price/Payment Schedule:

Cost: CAD $1,900+ GST
Payment options:
1) Full payment or
2) Non-Refundable Deposit: CAD $750 + GST  + Final Payment: CAD $1150 + GST due by June 30, 2020

Note: failure to pay by the payment due date means forfeiting deposit and spot will be freed up and potentially sold to another interested participant (see more in cancellation policy below).

If unforeseen circumstances arise, participants are welcome to transfer/sell their space to another interested participant.
Included:
- Daily instruction/mentoring by Paul Zizka and Dave Brosha with assistant Maggie Hood.

Not Included:
- Accommodations (we have a discounted rate for participants at the Juniper Hotel and will provide a code to registered participants)
- Meals
- Transportation.
- Travel Insurance
Transportation
The price of the workshop does not include transportation. Participants will need to arrange car rentals or carpooling with other workshop participants.
Traveling from Calgary to Banff
- Car Rentals in Calgary
- Airport Shuttles to Banff: Explore Rockies or Banff Airporter
- Car Rentals in Banff
Park Pass
You will need to purchase a park pass when you arrive at the entrance to the park. Purchase your park pass.

Banff National Park
At 6640 km2, Banff National Park is Canada's first national park and a UNESCO World Heritage Site. Besides being a mecca for photographers, Banff offers opportunities for other activities, such as hiking, biking, and canoeing. Local yoga studios and spas give you the chance to unwind, and a variety of art galleries and museums help you tap into the local history and culture. If you have the opportunity to extend your stay in the park, we highly recommend you take advantage of everything it has to offer.
Visit http://BanffLakeLouise.com for more information on activities, restaurants and more. If you have specific questions around activities, please do not hesitate to ask.
What to expect
The workshop is suitable for participants of all levels of experience in photography. Most locations will be readily accessible from the road, although we may hike short distances on occasion.
Knowledge of lighting is not required, nor do you need to bring any special equipment beyond your camera, your favourite lenses, and any filters you might normally use in a landscape setting. Dave and Paul will provide any needed lighting for those interested in creative outdoor lighting.
It is worth noting that the workshop will be quite intense in order to maximize field time. Participants are not expected to participate in every aspect of the workshop. It's up to you to get out as much as you like, though of course it is recommended you give it your all.
LEAVE NO TRACE
Both Dave and Paul preach and live the ethics of "leave no trace" photography, which means that the utmost care is given, while hiking and photographing, to leaving zero impact on the natural environment. Participants are expected to approach this tour with the same ethics at all times.


INSURANCE: It is not only advised but required that workshop participants have trip cancellation/interruption insurance, as well as emergency medical/illness insurance and rescue coverage (proof required within 4 months of departure).
Weather and other unforeseen factors can cause delays in travel, particularly from some of our more remote locations. It is the participant's responsibility to cover any costs in the case of a travel delay of any length. Please ensure your trip cancellation/interruption insurance accommodates this possibility.
By purchasing a spot you are acknowledging that you accept these conditions.
About Paul Zizka
Specializing in photographing in difficult conditions and hard-to-reach places, Paul has a passion for shooting alpine sports and backcountry experiences, capturing the spirit of adventurers and finding unusual angles of common mountain subjects. As a landscape photographer, he particularly enjoys the challenge of capturing nature's beauty at night and the unique features that come with a dark sky – stars, Northern Lights and dramatic silhouettes.
Paul's award-winning photos have been featured in a variety of publications, includingIMPACT, Alpinist, Canadian Geographic, Islands, PhotoLife, Fodors.com and explore magazine. In addition to his work for a number of clients, over the past few years Paul has created a signature collection of images for Banff Lake Louise Tourism, which are used to promote Banff National Park throughout the world.
In the Canadian Rockies, Paul has hiked extensively in the backcountry and photographed from the summits of countless peaks. His adventures abroad include a 1400-km unsupported double-crossing of Iceland on foot (2004), which is believed to be the first of its kind, and a 1488-km solo crossing of the South Island of New Zealand (2007). Recent travels have taken him backpacking in the Caribbean, exploring tiny insular nations of the Pacific, trekking in remote corners of Scandinavia and Nepal, and ski touring on Baffin Island.
About Dave Brosha
"Critically acclaimed....spectacular photos." - The Globe and Mail
Holding a passion for the world and an eye for the beauty it contains, northern commercial, personal, and landscape photographer Dave Brosha is on a continual journey to seek out and capture the beauty of this world – whether it's the beauty of some of most extreme and pristine environments in the world, or the beauty of some of a person's most personal moments. In addition to living throughout northern Canada for much of his life, Dave has also lived in Asia and has traveled extensively through both the many provinces and territories of his native country and numerous countries abroad.
Dave's personal affiliations and representations include the First Light agency, Aurora Images, Offset, Getty Images (stock), National Geographic (stock), and the Canadian Press, for which Dave is a freelance photographer.
OFFBEAT TERMS AND CONDITIONS

Please take the time to review OFFBEAT's Terms and Conditions, including our Cancellation Policies. You are required to agree to these in order to confirm your registration. Effective June 16, 2020.
For any additional questions, please contact us at workshops@offbeatphoto.ca