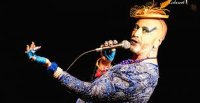 Joanna is delighted to be welcoming  Paul Martin, affectionatley known as Paulus, to Joanna's Place.  

Paulus, aside from being the not-so-easily-pleased judge on the BBC 1 hit talent programme All Together Now, is an all-round showman par excellence, having been an entertainer since the age of seven, so going on for some fourteen years now . . . (he says!)  
He has performed in and out of drag to literally tens of people up and down the country and in some venues he was actually asked to.
He is in demand worldwide for crimes against theatre since his performances in Paris, Berlin, Melbourne and New York in the early Noughties, and has graced TV screens as a mentor to pensioners, singing judge, lookalike/weight-loss adjudicator, and a badminton player with no shuttlecock.
Cabaret, Theatre and TV work not being enough, Paulus now tours branches of Dunelm in his thought-provoking and immersive one-man show 'Can I Get A Refund?' which one bystander called 'Incessant'.
His witty repartee and knowing looks will make you laugh and cry In equal measure as he shares his unique work view through music - that of others and his own.
"Paulus is an industry gem and absolute professional. Entertaining and insightful, he brought a new level of expertise and hilarity to our events." Tempest Rose, House of Burlesque
"Paulus is a firm favourite at the Café de Paris, London. Regularly hosting Showtime Cabaret, he controls the room with sharp wit, fantastic vocal ability and presence. Always a consummate professional and a pleasure to work with." Tom Gravett,Café de Paris
Paulus will be supported by Joanna and her partner in crime Leigh McDonald.  In their comic alter-egos as 'Mac & Eden' they'll perform musical theatre favourites.