---
Join the guestlist
---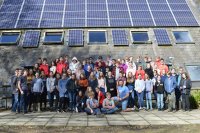 Barton Youth's annual Youth Weekend Away is approaching, and we want your young person to be there! 
Three main meetings with amazing talks from the youth team. Late night wide games in the woods. Sports in the sports hall. Swimming. Bonfires. And the ultimate game of Tribal Wars. Prepare for mud and war as the young people battle it out once again to be the ultimate Tribe. This is one weekend your young person and their friends don't want to miss.

One Youth Group, One Life Changing Weekend.
We are passionate about this weekend and therefore do not ask for payment for a place on the Youth Weekend Away. What we do say is a recommended donation towards the YWA of £95 for the first child and £75 per child there after. But we want to make clear, we don't want money to be a barrier towards your young person(s) joining us on the YWA. All donations to be made by an online bank transfer to Barton Church.
Sort Code: 40-52-40
Account: 00031143
Reference: YWA20*SURNAME*