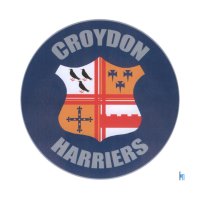 You are invited to join us for an anniversary and reunion dinner celebrating 100 years of Croydon Harriers!

Where: Croydon Fairfield Halls
When: Saturday 26th September 2020 - 6pm for welcome drink, 7pm for dinner and celebrations, ends 11pm
How much: £50 (plus £1.50 admin fee) per person
The price includes a welcome drink, three-course sit-down meal with wine in the company of athletics celebrities, a memorabilia display, other entertainment and dancing.

During the purchase, you will be asked for names. If you are buying for yourself, please put your name as the first-named ticket. If you're not sure of all your guests yet, please just use your own name again.
Nearer the time we'll be in touch to find out more about you and your guests such as dietary requirements and suggested contemporaries you might like to sit with.

If you have any trouble completing this form or in paying the full amount in one payment please email croyharr@gmail.com or contact Mike Fleet on 020 8647 1341.
There is a finite number of tickets so please book early to avoid missing out!
Closing date for buying tickets: Tuesday 1st September
Watch out for the latest news about the dinner on our website. We will also add information here from time to time.
Hotel discounts: If you, or someone you know, is coming from afar, we now have details of the hotel discounts available.
Juries Inn has offered 15% discount on rate at time of booking. Enter FAIRFIELD in the Promo Code Box.
Croydon Park Hotel has offered 10% discount on rate at time of booking by using this link when booking.