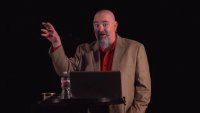 Can you believe it? It's been 10 years since Cambridge Skeptics first started. And, it is with absolute pleasure that we can confirm our guest speaker for our 10th birthday special event is Matt Dillahunty!
Matt Dillahunty is well-known as one of the hosts of the popular Atheist Experience phone-in show (www.atheist-experience.com) where believers and non-believers phone in to present claims whilst the hosts try to explore what is actually believed and why. As well as the AXP show, Matt also has a series of online videos as part of the Atheist Debates Patreon project (https://www.patreon.com/AtheistDebates). In these videos he discusses many topics on the subjects of religion, morality and skepticism, using topic videos, debates and debate deconstructions.

A Southern Baptist for more than 25 years, he sought to become a minister until his investigation of his religious views led him to reject supernatural claims. He now identifies as a skeptic, humanist and atheist. He is a founder and contributor of the counter-apologetics encyclopedia "Iron Chariots", dedicated to providing the understanding and tools for more effective discussions between theists and atheists. He is regularly engaged in formal debates and travels the world speaking to secular organisations, churches and university groups on religion, philosophy, skepticism, atheism, humanism and magic.

Matt has shared the stage with many prominent names including: Richard Dawkins, Sam Harris, Aron Ra, Richard Carrier, Cosmic Skeptic and others such as Jordan Peterson and Douglas Murray to name a few.

Having inspired many to explore the realms of skepticism and critical thinking, Matt aims to 'believe as many true things as possible and as few false things as possible' and has said that being a skeptic is the most important identifier of who he is.

For the first time in the UK, Matt will be presenting some of his magic tricks to demonstrate how he's used it to teach people the principals of skepticism. After the lecture, we will open the floor to you, the audience for an extended Q&A session which will run until the event closes.
Tickets
£10.00 Advance
£13.00 On the Door
Cash, contactless and mobile payments accepted.
Doors open at 6:30pm. The lecture starts at 7:00pm.
Food and Drinks
There is no bar, drinks or food available on site as this is a university lecture theatre. You are welcome to bring in bottle drinks, such as water, with you for the event.
Accessibility
The venue is wheelchair accessible and there is space for wheelchairs at the front of the lecture theatre. There are wheelchair accessible toilets which are located near the theatre.
Finding the Venue
The venue is Anglia Ruskin University, which is located on East Road, Cambridge, CB1 1PT. The event will be held in SCI 105, a lecture theatre on the ground floor of the Science Centre. Look out for signs for Cambridge Skeptics which will point you the right direction.
Nearest Train Station
The nearest train station is Cambridge Station, which is a 20 to 25 minute walk from the venue, or a short taxi ride. For those travelling from London, there are 7 trains running between the event close at 21:45 and the last train at 23:54.
Parking
Unfortunately, there is no parking at the Cambridge Campus. Pay & Display Parking can be found at Queen Anne Terrace Car Park, Gonville Place, CB1 1ND. There is also some street parking in the nearby streets, but please check signs for restrictions.