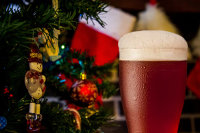 Are you ready for the Holiday Pub Crawl of your life?
This Holiday season, join us as we cheer up Downtown Hanford with Ugly Holiday Sweaters, games, prizes, and caroling.
Our 2nd Annual - This is by far Hanford's go-to event this Holiday Season! We have sold out a whole week before with this type of event, so get your tickets now!
Hanford's 2nd Annual Ugly Sweater Pub Crawl will give you no cover charge at all locations plus great drink and food specials with your wristband. There will be contests, games, caroling, and different atmospheres at all locations.
Drink special locations include:
And food special locations include:
So, gather your friends and bust out your most hideous sweater for a fun pub crawl. Parade your ugliest sweater proudly as you enjoy various drink specials while your chest's emblazoned with a giant reindeer. Remember: the uglier the better. Whether it's festooned with candy canes, snowmen or cats in Santa hats, your sweater will be welcomed and celebrated.

*** TICKETS ARE ONLY SOLD ONLINE - NO TICKETS WILL BE SOLD AT THE DOOR ***
We expect this event to SELL OUT! Please get your tickets NOW while they are still available!

The best part... A portion of the proceeds of the event will be donated to the Valley Oak SPCA!

You must be 21 years of age or over to participate.
Always have a sober driver; use our code DOTHECRAWL with Lyft!
Please visit our check-in page for further details:
https://dothecrawl.com/Hanford/Check-In
Be sure to read our FAQ!
https://dothecrawl.com/FAQ
Designated Drivers can register at check-in for a chance at a special prize, just for them!
Although our participating locations will do their best to accommodate everyone; drink specials, food specials, and entry are subject to restrictions.

For more info, visit https://dothecrawl.com/Hanford.