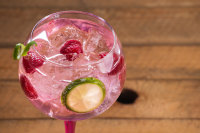 Get ready for a new venue, new exhibiting gin brands, and a new journey of gin discovery with Oxford's premier Gin Festival. It promises to be the biggest celebration yet! 

The Gin To My Tonic Festival brings together over 100 different gins from across the UK and beyond. Each gin stocked behind the bars has been selected based on outstanding craftsmanship, delightful flavour and the most enjoyable drinking experiences. The festival is here to take you on a journey of gin discovery! What's more, we believe gin should be served correctly which is why we offer 35ml serves (as opposed to the average 25ml) as standard!
The Gin To My Tonic Festival will take place at Oxford Examination Schools. Part of the University of Oxford, it's a glorious listed building and the perfect setting for gin celebrations.

 TICKETS £14.50 PER PERSON, INCLUDES:
Gin Explorer Guide
Gin Copa Glass
Glass Bag & Pen
NEW! Stainless Steel Straw
Access to 100+ Gins (and selected Vodkas and Rums)
Gin Exclusives
Delicious Premium Mixers (including Lemonade)
Gin Sampling / Ask The Experts
Access to Hot & Cold Food
Live Entertainment
Gin Party Atmosphere
SESSION TIMES:
Saturday 12th September 2020 12.30pm – 5.00pm
Saturday 12th September 2020 6.30pm – 11.00pm
Your ticket will provide you with guaranteed entry to the session of your choosing, along with a beautiful 'Gin To My Tonic' Copa balloon glass, tote bag, pen, and a Gin Explorer guide detailing the range of gins available and brief tasting notes.

We pride ourselves on our relationships with distilleries, and are therefore delighted to be able to bring together a range of established and emerging craft gins in person to enrich your gin experience. You'll also be able to pick their brains and discover even more about everybody's favourite juniper-based tipple. 
The bar will operate on a token system with each token costing £5 for a 35ml measure of gin, garnish and an appropriate mixer. Cash and card payments are accepted. There will also be live music to get you into the party spirit.
Love gin? Then join us for something totally unique!
Terms and conditions apply. Strictly over 18's only. www.drinkaware.co.uk
Should you have any questions then please do not hesitate to contact The Gin To My Tonic at enquiries@thegintomytonic.com who will be delighted to assist you.