---
Buy tickets
Ticket Type
Price
Fee
Quantity
---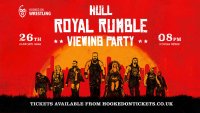 Royal Rumble is sneakily everyone's favourite WWE event of the year featuring the famous 30 man/woman, over the top rope matches with the winner booking their place in the spotlight at WrestleMania. And it's almost time to party!

It's always a great night and this one is going to be extra special with Raw, Smackdown and NXT superstars putting on a show! If you've never been to a Hooked On Wrestling PPV Viewing Party before, you can expect much more than just the PPV....
- Loads of large screens with the action all over the bar

- Food and drink served right to the final bell
- Start the night with a wrestling themed quiz and COSPLAY contest - Big favourites for anyone who comes to our events!
- WWE tunes played all night in the run up to the PPV


Sound like the way for you and your friends to experience Royal Rumble? Of course it does! Tickets are on sale on Monday November 11th at 9AM priced at £6 per person.