---
Buy tickets
Ticket Type
Price
Fee
Quantity
---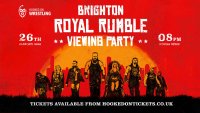 Royal Rumble is sneakily everyone's favourite WWE event of the year featuring the famous 30 man/woman, over the top rope matches with the winner booking their place in the spotlight at WrestleMania. And it's almost time to party!

It's always a great night and this one is going to be extra special with Raw, Smackdown and NXT superstars putting on a show! If you've never been to a Hooked On Wrestling PPV Viewing Party before, you can expect much more than just the PPV....
- Loads of large screens with the action all over the bar

- Food and drink served right to the final bell
- Start the night with a wrestling themed quiz and COSPLAY contest, with a free shot for anyone coming in costume or wearing a wrestling shirt!
- WWE tunes played all night in the run up to the PPV
- Pool tables


Sound like the way for you and your friends to experience Royal Rumble? Of course it does! Tickets are on sale NOW priced at £7 per person.