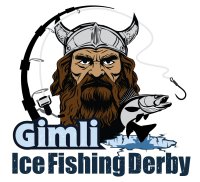 DERBY DAY ON ICE-PARKING AVAILABLE AT 7:00AM
ICE ACCESS: 9:00 a.m.

FISHING DERBY: 11:00 a.m. - 2:00 p.m.
More than $60,000 in Cash, Prizes and Giveaways to be WON! *


FIRST PRIZE:
$15,000 CASH

PLUS... many other prizes!
2024 Gimli Ice Fishing Derby RULES
1. All competitive fishing event participants must adhere to current Manitoba Fishery Regulations. For more information, please review the Manitoba regulations by visiting: https://www.gov.mb.ca/nrnd/fish-wildlife/pubs/fish_wildlife/fish/angling-guide.pdf
2. Entry fees:
     Early Bird Prices: Purchase your tickets on or before February 2, 2024 and save:
          $50 Adult First Hole
          $25 Youth (age 15 and under) First Hole
          $25 Second Hole
     Regular Pricing: purchase your tickets between February 3 and March 2, 2024:
          $70 Adult First Hole
          $30 Youth (age 15 and under) First Hole
          $30 Second Hole
3. Tickets may be pre-purchased online at www.gimliicefishingderby.com or at one of our partners.
4. Tickets are non-refundable. Participants may not angle with entry tickets purchased in the name of another individual. Tickets purchased prior to the start of the event may be transferred prior to the start of the event.
5. All coolers, pails, packs, boxes, portable tents, structures, and other equipment are subject to inspection by Derby Officials before entering Derby site, as well as any time during the event.
6. The Derby will take place from 11:00 a.m. – 2:00 p.m. on March 2, 2024
7. A horn will sound to begin and end the day of fishing.
8. Participants will be permitted on the ice at 9:00 a.m. DST to secure their angling hole/s.
9. Only holes drilled in the Derby grid and drilled by the Derby committee are eligible to be fished. There will be no extra holes drilled the day of the derby.
10. Bring an axe or chip bar to re-open holes as the holes are drilled through the ice the morning of the Derby and holes may begin to freeze over depending on the weather.
11. Starting at 9:00 a.m., participants are allowed to utilize electronic devices for the purpose of measuring water depth when selecting their fishing spot and for assistance in fishing during the Derby.
12. Pre-fishing within the Derby area is prohibited for a period of 7 days leading up to the start of the Derby. This restriction is necessary to facilitate snow clearing operations at the site.
13. Angling may not take place prior to the 11:00 a.m. start time and must stop at 2:00 p.m. No fishing line shall go in the water until the beginning of the Derby at 11:00 a.m.
14. Anyone angling prior to start time will face disqualification.
15. Participants are restricted to the use of one fishing line per hole per entry ticket and may occupy or reserve only as many holes as that Participant has purchased tickets (maximum of 2). Only Participants with entry tickets may angle and may not have any other person angle on their behalf at any time during the Derby.
16.No passing of fish among participants is allowed at any time during the derby.
17.If you must leave the fishing area for any reason, you must exit and enter through the main entrance and advise Derby Officials upon leaving and re-entering.
18. Portable tents, portable structures, windbreaks, and barriers may be used by participants. No tent or other enclosed structure shall be erected before the 11:00 a.m. start of the Derby. Structures must be placed over existing holes. Derby officials reserve the right to open and inspect inside any structure at any time.
19. Motorized vehicles, aside from those intended for Derby Officials, are not permitted within the specified fishing area unless prior approval has been granted by the derby officials. For instance, individuals with mobility challenges may seek such approval. Off-road vehicle parking is exclusively permitted outside the derby grid. Even if arriving by off-road vehicle, all participants must still proceed to check in through the main entrance.
20. Porta-Potties will be stationed on site.
21. Competitors must be 18 years of age or older unless fishing with a Parent or Guardian.
22. Fish Weighing Process:
     a. The Gimli Fishing Derby is a catch and release Walleye and Sauger only event.
     b. Fish will be measured (if required) and weighed by Derby Officials only.
     c. Participants must alert on-ice officials of their catch and will receive a time of catch receipt prior to heading to the weigh-in tent.
     d. You must present your derby ticket prior to measuring and weighing.
     e. Participants are to bring their fish to the official weigh-in tent in a bucket or container of water, minimum 5 gallons of water.
     f. Only Walleye and Sauger 35cm to 55cm will be accepted for weigh-in by Derby officials. In the event of a tie (weight) the earliest recorded time will prevail.
     g. The information will be recorded by the Derby Official and initialed by the Participant as verification of the information.
     h. All fish will be released immediately after weighing. Under no circumstances are any participants allowed to keep their fish.
     i. Participants are not limited to the number of legal fish that can be weighed in during Derby hours.
23. Contestants do not need to be present to collect prizes, however contestants are responsible for any applicable shipping or delivery charges that may occur.
24. Cancellations and Delays:
     a. Derby Officials have the right to delay or shorten the Derby times, subject to weather or safety conditions.
     b. Should inclement weather, unsafe conditions, Manitoba Public Health Orders, or any other reason beyond the Derby Officials control, cause Derby cancellation on March 2, 2024 the Derby will not be rescheduled. No refunds will be offered in the case of cancellation. In the event that the Derby is cancelled, prizes will be awarded through a random draw by derby officials via Facebook Live on March 11, 2024. Time will be posted on the Derby website and
on our social media sites.
     c. Official cancellation notices and information will be sent to ticket buyers via email and posted on www.gilmiicefishingderby.com as well as on Facebook and Instagram @gimliicefishingderby
25. Disputes and Rule Interpretation: It is the intent of the Gimli Ice Fishing Derby Committee to provide an honest sportsman-like Derby. In the interest of good sportsmanship, contestants are reminded that the "spirit of the rule" shall apply. In the event any dispute arises in relation to these rules and the dispute is not resolved by negotiation, the Derby Committee will have the final say. Any disputes may be addressed with a committee member in the weigh-in tent.
26. Event Photography and Videography: The Gimli Ice Fishing Derby is a public event, and you may be photographed or recorded by other means during the Derby or surrounding activities. The Gimli Ice Fishing Derby Committee reserves the right to use photographs, videos, and other recorded media taken during the Derby or surrounding activities for use in their publications, website and other means for promotional purposes. No compensation or remuneration of any kind will be paid for the use of any photography, video, or other recorded media taken as a result of your attendance at The Gimli Ice Fishing Derby and surrounding activities.
27. Indemnity: All participants indemnify and hold harmless the Gimli Ice Fishing Derby Committee and its officials with respect to any death, injury, damage, fire, theft, loss or other claims arising before, during, or after this competitive fishing event.
28. Cash Prizes are based on a minimum of 500 paid entrants and will be pro-rated if there are fewer than 500 paid entrants. All non-cash prizes listed will be awarded.
29. Rules are subject to change.

*Cash Prizes based on a minimum of 500 paid entrants.
For information about Marymound: https://www.marymound.com/
For information about Fish Futures: https://www.fishfutures.net/