---
Buy tickets
---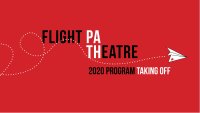 3 awesome deals to choose from.
Buy 5 plays, see 6!
Buy 8 plays, see 10!
Buy 13 plays, see 17!
Let's face it, 2020 at Flight Path is going to be so good, you're going to want to see everything!
(Flight Path Theatre Festival will have it's own seperate season pass)
Buy your chosen pass now and we will email you with the play choices and book in your preferred dates and times. Changes can be made subject to availability. And no booking fees! Spend that $2.50 on an ice cream at FPT instead!