---
Buy Vouchers
Ticket Type
Price
Fee
Quantity
---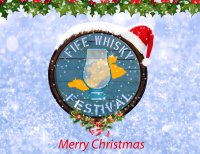 A Christmas Voucher for 2020's Fife Whisky Festival is the perfect gift for the whisky enthusiast in your life!
Just print off the voucher and hand it to the lucky recipient. This will act as their admission ticket on the day.
It's as simple as that!
Please see information for Session 1 and Session 2 for event details.