---
Buy tickets
Ticket Type
Price
Fee
Quantity
---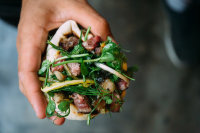 BBQ Masterclass

Seasonal Cookery with Carousel
11am - 3.30pm
This returning BBQ masterclass hosted by the Carousel team will teach guests the art of "next level" barbecuing. The workshop will include hands-on lessons in mastering the techniques of smoking, marinating and grilling meats to perfection, followed by a step-by-step guide to creating the ultimate BBQ accompaniments.
In this half day workshop you'll learn to spatchcock a chicken, create a delicious marinade and make your own homemade flatbreads from scratch. The chefs will also take you through an introduction to smoking, how it works, how to do it at home and what type of woods are best. Putting everything you've learned in to practice, you'll get stuck in, smoking and grilling beef, rustling up the perfect chimichurri, and your very own smoked potato salad.

After all your hard work, you'll deservedly sit down to a BBQ lunch and enjoy the fruits of your labour in the Carousel garden.