---
Buy tickets
Join our waiting list to be notified when tickets become available.
Done! You are on the waiting list.
---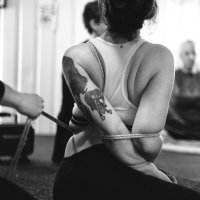 This is the second course in our foundational course series created by Anna Bones and Fred Hatt of Anatomie Studio. There are 4 courses in total.
Improve your floor work and find new ways to play in this weekend course!
We will cover:
-Ties for floor play (arm binders, tengu, arms in front, etc)
-Movement based tying (freestyle and harness based)
-'Hojo' style ties
-Neck, mouth, hair, breast and crotch ties
-Impact, breath play and wax play
-Tying the face, hands, feet
-And much more!

Who can come to this class? Are there pre-requisites? 

This class has pre-requisites for riggers and rope bottoms/models – please make sure you meet these before booking to avoid disappointment on the day.
-Completion of Course 1, Introduction to Shibari Course or The Takate Kote crash course gives both riggers and models the necessary pre-requisites for this course.
-Riggers must know how to comfortably tie a structural two rope Takate Kote taught to you in a class, workshop or private tuition.
-Rope bottoms should be comfortable in a Takate Kote and familiar with the differences between nerve and circulation impingement.

* You do not need to complete this course to move from Course 1 to Course 3.

What should I bring and what do I wear? 

We have ropes you can use during the class and we have a communal kitchenette, fridge and microwave. Tea and coffee are free but you should bring your food and snacks (we have plates and cutlery you can use). People usually wear comfortable clothing like yoga or dance attire. We advise against loose fitting clothing and also jeans can sometimes feel a bit restrictive to move around in and difficult to tie on.