---
Buy tickets
Join our waiting list to be notified when tickets become available.
Done! You are on the waiting list.
Ticket Type
Price
Fee
Quantity
---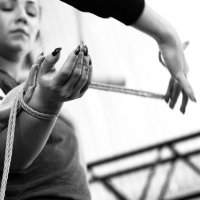 Can't make weekend courses? Need breaks in between lessons to practice and play?Introducing a new option for beginners and all levels who want to progress in rope during the week.

What does this workshop cover?

Week 1
- Single and double column ties
- Rope flow, movement & sensation
- One rope freestyle techniques for play and restriction

Week 2
- Introduction to frictions, joining ropes and more freestyle tying- A variety of one and two rope structural harnesses (bunny ears, tengu, arm binder, gote, futomomo)

Week 3
- Introduction to the TK

Week 4
- Playing on the floor
Who can come to this class? Are there pre-requisites?

There are no pre-requisites for this course. This class is open to all levels and complete beginners. No rope needed. No experience needed. Switching is allowed throughout the class (tying and being tied).
What should I bring and what do I wear?

We have ropes you can use during the class and we have a communal kitchenette, fridge and microwave. Tea and coffee are free but you should bring your food and snacks (we have plates and cutlery you can use). People usually wear comfortable clothing like yoga or dance attire. We advise against loose fitting clothing and also jeans can sometimes feel a bit restrictive to move around in and difficult to tie on.