---
Buy tickets
---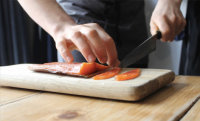 Curing & Preserving for Christmas 
Seasonal Cookery with Carousel
11am - 3pm
Rounding off this year's series of seasonal cookery workshops, we're hosting a comprehensive Curing & Preserving Workshop to get your Nigella-esque larders ready for Christmas (sigh, we can only dream). Join our chefs in the kitchen for a morning masterclass as they show you how to cure, ferment and  a selection of goodies that will be ready for the big day. 

You'll begin the class learning about basic preservation techniques before popping your aprons on and putting it all in to practice. First up, will be the art of curing with a Maple Cured Trout and a Spiced Orange Duck Ham, moving on to fermenting your own Sprout Kraut and finishing off with something sweet - a tangy Rowan Berry Jam. 

Once all the hard work is done, our chefs will serve up a delicious lunch featuring some of the treats you've just learnt how to make (channelling Blue Peter with ones they made earlier). 

Take home your hand-crafted treats and save them up for Christmas Day or if you're feeling generous, you'll have a selection of homemade gifts ready to go. Get your aprons on, holidays are comin'...