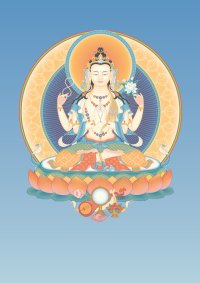 Avalokiteshvara empowerment
Special event with Resident Teacher Gen Kelsang Leksang

Saturday 18th April | 10.30am – 4.30pm | £25
plus optional day retreat Sunday 19th April - 10.30am-3.30pm (£40 for the whole weekend)

This is a wonderful opportunity to receive the blessing empowerment of Avalokiteshvara, the Buddha of Compassion. By receiving this empowerment, we will deeply heal our minds and will begin to awaken our potential for universal compassion which has the power to transform our self and our world.
An empowerment is a beautiful guided meditation, during which we will receive the blessings of Buddha Avalokiteshvara, the embodiment of the compassion of all enlightened beings. In the afternoon, our Resident teacher Gen Kelsang Leksang, will explain a practice we can engage in order to deeply benefit ourself and others.
The empowerment day is followed by an optional retreat day, which provides a special opportunity to gain familiarity with the practice of Avalokiteshvara

This event includes lunch and refreshments.
Everybody welcome.
This course is suitable for everyone from complete beginners to experienced meditators.
THE TEACHER
Gen Kelsang Leksang is an ordained Buddhist nun who has been studying and teaching under the guidance of Venerable Geshe Kelsang Gyatso for over 17 years. She has been appointed by Venerable Geshe-la as the Resident Teacher of Kalpa Bhadra Kadampa Buddhist Centre. Gen Leksang teaches from her experience of practicing Buddha's teachings in every day life which makes them very accessible and relevant to everyone. She is appreciated for her kind and joyful approach and her sincere example.