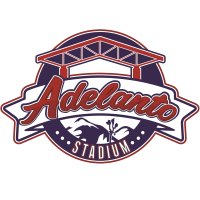 It's the LEGENDARY Adelanto Grand Prix! January 17, 18 and 19, 2020
This is the place to purchase your tickets and camping! Don't be left out!
Event wristbands will be issued upon entry and must be worn at all times. This event will happen RAIN or SHINE. For security purposes, all persons will be subject to a search of all bags, purses, etc.. No outside food or beverages (aside from bottled water) will be permitted in fenced event areas. No coolers will be permitted inside the fenced event areas. Camping areas allow coolers and outside food and beverages, but you are not permitted to bring items into the fenced event areas. Vehicles without a camping pass must pay $5 for parking each day as they enter and must be parked in the parking lot. Those that are visiting someone that is camping at the event will have to pay for parking as well as an event entry wristband and will need to park in the parking lot. Purchase of a camping spot and/or rider registration does not cover event entry. Campers and riders will have to purchase an event wristband upon entry. Campgrounds officially open Thursday morning. NO CAMPING OR PARKING IS PERMITTED OUTSIDE AUTHORIZED LOTS! VIOLATORS WILL BE TOWED! Campers must set camp within the marked site - no circle/group camping is allowed due to Fire Marshal restrictions. Camp fires must be contained within an approved fire pit, no fires are allowed on ground. Please refrain from burning pallets or wood with nails.
PLEASE READ:
WAIVER, RELEASE AND COVENANT NOT TO SUE

By entering this premises and participating in the activities herein, you agree to hold harmless and further waive, release, discharge and covenant not to sue the City of Adelanto, Adelanto Stadium, American Motorcycle Association, District 37, Southern California Motorcycle Club, its vendors, affiliates, contractors, directors, officers, members, sponsors, organizers, employees, volunteers, legal representatives, agents, successors and/or assigns, for any and all claims, costs, including attorney's fees, demands, causes of action, suits, injuries, damages of any kind whatsoever, or death, sustained by me, which arise out of my participation in this event. I also agree to the use of film, photo, audio or videotape of my participation in this event for any reason.
I understand that there are risks involved with my participation in or viewing of a Motor sports event, or any inflatable structure/activity where I will be on or around Motorcycles or inflatable devices such as "Moonwalks", "Moon Bounce", and "Bungee Run" or any other type of object meeting the same description as those listed herein. Falling, slipping, suffering injuries from jerking motions in some activities, collision with other occupants and/or the inflatable itself or other objects, nausea, headaches, broken bones, getting hit with objects being thrown or other types of potentially hazardous events are possible during involvement in such devices. This constitutes my understanding of that involvement in a potentially dangerous activity with accompanying risks of personal injury or death and loss or damage to personal property, and I hereby voluntarily assume those risks.
Activity: Adelanto Grand Prix – January 17, 18, 19- 2020
This instrument shall remain in full force and effect indefinitely and shall inure to the benefit of my family members, heirs, agents, legal representatives, successors and/or assigns.
I have read and understand the foregoing provisions of this WAIVER, RELEASE AND COVENANT NOT TO SUE and by entering the premises, I execute this instrument voluntarily on this date.