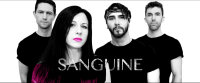 As part of it's Independent Venue Week 2020 celebrations The Old Bakery is stoked to be able to present Rock Night, headlined by Metal Mayhem rockers Sanguine. Local rock heroes Godstone and O'Deus join Sanguine for what will be an EPIC night. It'll be loud, it'll be brutal, it'll rock!
Sanguine are a four piece female fronted alternative rock/metal band from the UK.

Notorious for their live shows, they have supported acts such as Megadeth, Fear Factory, Skindred, Mushroomhead, Cancer Bats, Zebrahead, Hed PE, OPM to name a few! They have played at legendary UK festivals such as Download (Donnington) and Bloodstock, and toured/played shows across the UK, EUROPE and the USA. "The crowd for these guys was massive and it's easy to see why" Myglobalmindmedia
Members include Tarin Kerrey (vocals), Nick Magee (guitars/vocals), Ross Andrew (bass) and Matt Feld on drums. Sanguine's relentless front-woman/singer, Tarin Kerrey, has worked with artists such as Adrian Smith (Iron Maiden) and Mike W. Goodman (Sikth). The band members refer to themselves as a family, and their fans are known as THE SANGUINE ARMY.
Sanguine's first professional studio album BLACK SHEEP was released in 2016, it features tracks co-written with Jesper Strömblad (In Flames), produced by Daniel Flores. BLACK SHEEP was critically acclaimed by the press. "A brutal and beautiful album" 10/10 metal-temple.com.
Students purchasing £5 student tickets, will be asked to present union cards or other proof of identity on entry to The Bakery.