---
---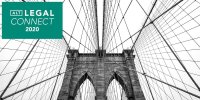 Alt Legal Connect brings together the brightest and most forward-thinking IP professionals for three days of content, networking, and more!

About this Event
We're hosting a different kind of trademark conference (and not just because it's virtual). We'll have sessions focused on trademark practice and law firm operations.

Trademark Practice Track
You'll delve into current and timely takes on issues like securing registration for nontraditional trademarks, avoiding OED pitfalls, the post-registration audit program, USPTO trademark office updates, and more.

Firm Operations Track
You'll hear from innovators and experts about unique billing models, personal branding, strategic approaches to digital marketing, and how to work smarter with in-house counsel and paralegals.

We called our conference "Connect" because it's centered around meaningful networking and building mutually beneficial relationships. From the format to the speakers to the layout, we've built our conference to facilitate connection and learning.. We'll have two tracks: one focused on trademark practice and one focused on the business of trademarks. You're welcome to attend sessions in both tracks.

What's Included:
- Inspirational keynotes and CLE sessions
- Access to fun and novel virtual networking and events.
- Time with Alt Legal's leadership, staff, and developers to get training and chat about your feature requests
- Unique opportunity to network with leading trademark professionals