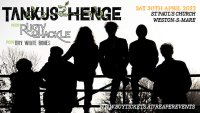 PLEASE NOTE NEW DATE!

Tankus the Henge have built their reputation on unforgettable songwriting, spectacular live performances and relentless hard work, playing hundreds of shows across Europe and building a devoted fan base along the way.
Their funk-fuelled repertoire is wildly eclectic, ranging from New Orleans inspired swing to heavy rock riffs, and since their beginnings in the ratty alleyways of London's Soho, the band has evolved into a wild groove machine.
Musically inspired by bands from the British invasion of the 60s and artists such as Tom Waits, Blur, Randy Newman and Queens Of The Stone Age, and with lyrics influenced by 20th Century American Literature, specifically the Beat Generation and Gonzo journalism, Tankus the Henge defy categorisation. Their hair-raising show, like no other, has to be seen and heard to be believed. Like a psychedelic, rock n roll octopus - only with four more legs.
Buy the ticket, take the ride.

Welsh indie-roots band Rusty Shackle have been tearing up stages around the world since 2010. Brandishing their distinct folk-roots sound and armed with an electrifying mix of rampant fiddle, scorching electric guitars, pounding drums, searing trumpet and banjo, the band have built up a devoted fanbase with their captivating live shows.
Constantly evolving their sound, the band have released three albums over the last few years, each reaching the top 3 in the iTunes 'Alternative Folk/Singer Songwriter'charts. The songs are steeped in honest emotion and story telling and are born from
the fires of Bruce Springsteen, Seth Lakeman, infused with the raw energy of Jack White and creativity of Tom Waits and mix it with everything in between. They deliver excitement every time they step onstage and give everything they have to steal your heart with their music.

Regurgitated from the post industrial chaos comes the black fingered rusty throated Dry White Bones.
A jack hammered roots and blues duo playing original old school masterpieces of heartbreaking ballads and floor shuddering grooves.....


All taking place in a beautiful church with acoustics that will do these guys justice! A full bar and food will be available.

We'll have limited seated tickets to purchase, but please be aware this is a standing gig as we expect you all to be up and jumping around all night to what is going to be a wall of high octane, floor stomping music!

Over 14 years only with a responsible adult
DISABLED AREA AND SEATING
Unless otherwise stated this event will be a standing only event with little or no seating available. If you have a medical reason to require seating or are registered disabled, please inform us prior to the event and we will ensure we allocate an area for you to sit in. If you arrive at the event without informing us, we will do our best to allocate you, but in all cases we would request that you bring proof of disability in the form of either your DLA entitlement, PIP's, Blue Badge or Access Card. Please contact us prior to any of our events if you have a Personal Assistant so that we can issue you with a free ticket for them.
We request this to ensure we have as much capacity for disabled customers as possible. Thank you for your understanding.